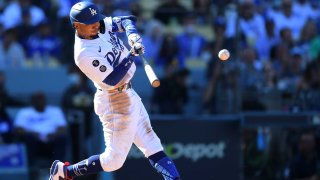 Facing a potential 3-0 deficit in the National League Championship Series, the Los Angeles Dodgers rallied in the bottom of the eighth inning behind a three-run homer from Cody Bellinger and a game-winning double by Mookie Bets to edge the Atlanta Braves 6-5 in Game 3.
The Dodgers batted around in a four-run eighth inning that saw Chris Taylor score off Betts' double, which led to Los Angeles' first win in the series.
Atlanta carries a 2-1 lead into Game 4 of the series Wednesday night.
The Dodgers are expected to start Julio Urias in that contest. The Braves have yet to name their starter.
Game 4 of the NLCS is set to start at 8:08 p.m. ET on TBS.