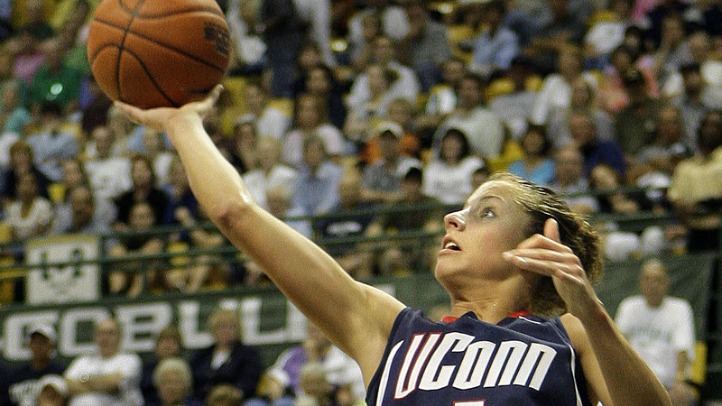 We mentioned previously that Caroline Doty missed the Syracuse game after suffering a bone bruise on her knee. The junior point guard has battled injuries for most of her UConn career; she missed the 2010-11 season after tearing her ACL, and tweaked her knee again this summer causing her teammates to collectively hold their breaths.

But Doty, who had started 19 games before Wednesday, was averaging 6.5 points, 2.1 rebounds, and a .389 3-point shooting percentage. And the plan is for her to return to practice Friday and be on the court when the Huskies host USF Saturday at the XL Center.

"That's the plan," coach Geno Auriemma said according to the Hartford Courant's John Altavilla. "We have a day off [Thursday] and she will get the entire practice in Friday and we intend to play her Saturday."

Doty's absence provided an opportunity for younger Huskies to get some playing time. Like, say, freshman Brianna Banks, one third of UConn's high-profile recruiting class that also included Kaleena Mosqueda-Lewis and Kiah Stokes.

"This is an opportunity for her," Kelly Faris told Altavilla Monday before UConn played Syracuse. "Hopefully she goes out and makes the best of it."

Banks saw 16 minutes of action against the Orange, made 2 of 3 shots, dished out three rebounds and grabbed two assists. Not All-American type numbers but respectable. Still, Auriemma mostly rotated just six players: Bria Hartley, Stefanie Dolson, Tiffany Hayes, Faris, KML and Stokes.

Stokes was the focus Auriemma's ire just two weeks ago. At the time the coach described her as "frustrating,'' repeating the refrain just to stress his point.

"She's frustrating. She's frustrating. She's just frustrating. That's the only thing I can tell you. She's just frustrating because she's really, really good. I'm trying to instill what it takes to play at this level. And I don't want to reward mediocre or even less of an effort or [just] doing what I did in high school. `This is what I did in high school, Coach, and it worked.' Well, it doesn't work here," he continued. "And you're too good, you're too talented and you have too much potential. And we're going to find out how bad you want this. And I think she does.''

Auriemma's foray into reverse psychology worked because Stokes has responded. As for the other freshman, Mosqueda-Lewis earned her first start against Syracuse.

"I never wanted this to be the reason for me starting. But I'm going to try not to look at it that way. Just look at it as a new possibility, a role that needs to be filled when Caroline's gone," Mosqueda-Lewis said.