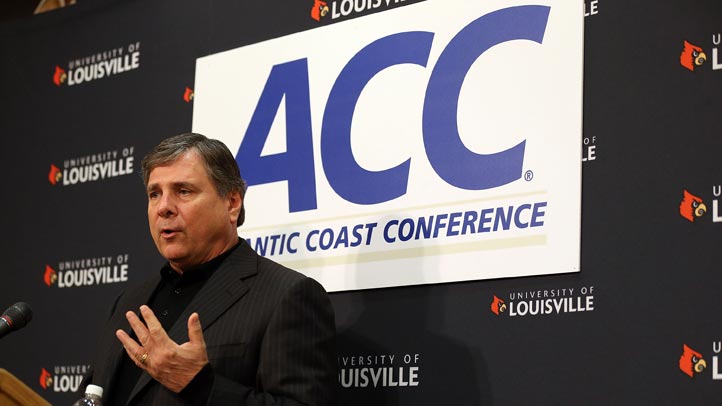 We're in Day 2 of a post-ACC world for UConn, at least for the time being. The wounds are still fresh as people come to grips with the reality that for now, the Huskies remain in the Big East. University president Susan Herbst and athletic director Warde Manuel both released statements Wednesday to try to assuage fears about UConn's fate.

Not everyone bought it.

The school's top football booster, Robert Burton Sr., thought the university should've been more proactive about finding a new home in light of just about every other school doing exactly that.

"I think that we just got caught in the headlights and weren't ready a long time ago," he told the Greenwich Time (via the Connecticut Post) on Wednesday.
""It's a disappointing day for UConn," Burton continued. "I don't care what anyone says. Any fan of UConn would have liked to be part of the ACC. If they say they don't, they're not telling you the truth."

Everyone agrees with this but there is good news: sources told NBC Connecticut's Kevin Nathan that the ACC felt it could land UConn at any time and that Louisville had leverage because there was a possibility that they might head for the Big 12.

One person who's not worried? Kevin Ollie.

"I don't pay attention to it too much," Ollie said of all the conference reshuffling. "You definitely care, but I'm not worried about it. I'm going to coach my team. We're in a great conference now, and we're going to try to win conference tournaments and conference titles. "I just really believe and have faith in Susan (Herbst) and Warde (Manuel) that they'll make the best decision for this university, because I love this university."

For now, it's business as usual in Storrs. Would an ACC invite been nice? Absolutely. But as Manuel mentioned in his statement Wednesday (and we're paraphrasing here): winning fixes everything. Conference designations aside, if UConn consistently wins on the courts and fields, it'll be the same top-flight school it's always been.