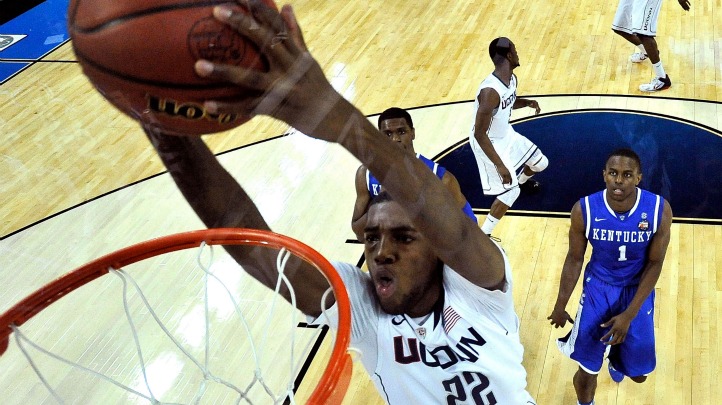 UConn heads to South Bend this weekend to face a Notre Dame team in the midst of home winning streak that stands at 29 in a row. If a Big East matchup on the road against a hot-at-home opponent wasn't enough, the Huskies will also be shorthanded.

Big man Tyler Olander is likely out. He has a bruised right heel and will be replaced in the lineup by the smaller, quicker Roscoe Smith, who has battled a wrist injury in recent weeks.

"Roscoe has looked very good in practice this week," coach Jim Calhoun said after the Huskies finished work at Gampel Pavilion on Thursday, according to the Hartford Courant's Dom Amore. "If we were playing tonight, he would be the first off the bench."

Niels Giffey, the sophomore sharpshooter who had started the two previous games, also appears headed to the bench, giving way to freshman DeAndre Daniels.

The coaches are looking to bolster the perimeter defense. And as Amore points out:

"The small forward role has been evolving. The coaches like Smith at power forward, where his quickness could be a defensive advantage. Calhoun is looking for improved defense against the three-point shot, among other things, and would like to have a true small forward in there, with perhaps less three-guard alignment."

The three-guard alignment was popular earlier in the season -- freshman Ryan Boatright joined Shabazz Napier and Jeremy Lamb on the floor -- but what the team gained in quickness they lost on the defensive end.

"We just aren't as good a rebounding team [with three guards]," Calhoun said. "Ryan [Boatright] is 5-10, DeAndre is 6-7; it's tougher to shoot over him. There's going to be less three-point defense, less shot-blocking."

With Jack Cooley and Scott Martin patrolling the lane for the Fighting Irish (8.4 and 6.0 rebounds per game, respectively), the Huskies will need as much rebounding muscle as they can put on the floor. While Notre Dame is perfect at home, they're 8-5 on the road and 11-6 overall. UConn, meanwhile, has fallen to No. 16 in the national polls after a two-game skid. They enter Saturday's matchup with a 13-3 record.