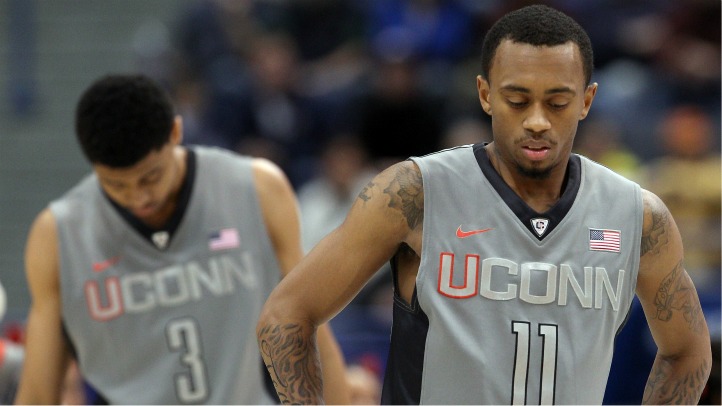 Conversations you probably thought you'd never have in mid-February: the Huskies are a bubble team. They entered Wednesday night's game against DePaul with a 15-9 record and 4-6 in the Big East. Those aren't close to defending-national-champ numbers, let alone big-time programs worthy of an NCAA invite in March.

And yet, here we are. MidwestSportsFan.com's Andy Bottoms lists the Huskies as one such team in trouble (along with Seton Hall and Cincinnati in the Big East), writing:

"The good news is that the Huskies played significantly better against Syracuse on Saturday and showed signs of life that had been missing in recent weeks. The bad news is they still lost and have now dropped six of their last seven and eight of their last 11. That said, UConn has the top-ranked strength of schedule to go with five Top 50 wins. However, none of those have come against the Top 25, and they are 1-6 in Big East road games. The Huskies play four of their last six at home, starting with DePaul and Marquette this week. If they can win both of those contests, I like their chances to get to 10 conference wins."

Thankfully, the Huskies had little trouble with the Blue Demons and are now 16-9 and 5-6 in the conference. Still, we've been drawing parallels between this year's squad and last year's from-outta-nowhere team that reeled off 11 postseason wins in a row to bring Jim Calhoun his third national championship in a quarter-century at UConn. But there are differences between the two teams.

First (and most obvious): Kemba Walker is in the NBA. His contributions can't be understated. Second, there were veterans, in addition to Walker, who helped the younger players navigate the tough stretches. Charles Okwandu and Donnell Beverly may not have contributed much in the way of stats but their value as senior leaders was vital. Third, despite the slow start by the 2010-11 club, they didn't start as slow as the 2011-12 version.

A year ago at this time, the Huskies were 18-5. They finished the regular season 3-4, including four losses in their final five games. And then everything magically came together and 11 wins later they were NCAA champs. Those Huskies finished the year 32-9 and 9-9 in the Big East.

This season, getting to .500 in the conference would be a good start, but no one expects another late-season surge. (Then again, nobody saw it coming the first time.) In addition to the growing pains associated with a roster full of young players, there's also the issue of Jim Calhoun sidelined indefinitely with spinal stenosis.

Any sort of resurgence in the coming weeks would make for a fantastic story but the reality is that, with just a few weeks to go, UConn is on the bubble.