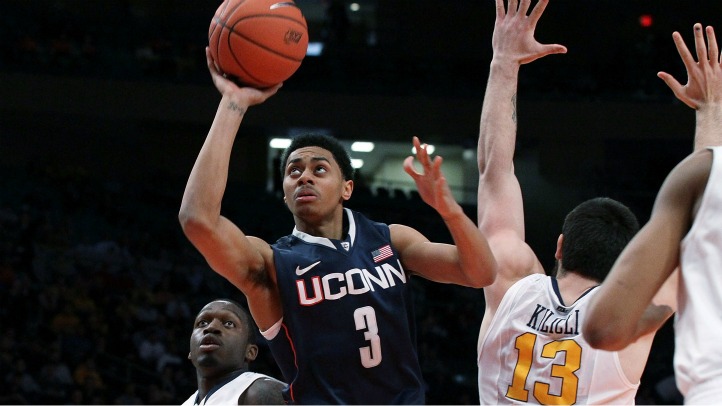 Jeremy Lamb has made it official: he's entering the NBA Draft. The announcement comes as no surprise for the Honorable Mention All-American who considered leaving school after his freshman year. Instead, the 6-5 guard from Georgia returned to UConn in what ultimately proved to be a disappointing season, even if individually, it further showcased Lamb's skills.

After averaging 11.1 points, 4.5 rebounds, 1.6 assists and 0.9 steals a game as a freshman, Lamb improved across the board: 17.7 points, 4.9 rebounds, 1.7 assists and 1.2 steals. Neill Ostrout of the Journal Inquirer writes that Lamb will draw comparisons to former Huskies star Richard Hamilton in both appearance and ability. (Hamilton was a more prolific scorer during his UConn career -- 19.8 PPG -- but he averaged 4.5 rebounds, 2.6 assists and 1.3 steals, numbers similar to Lamb's.)

ESPN.com's Chad Ford lists Lamb as the No. 12 player on his list of the top 100 players ahead of shooting guards Austin Rivers (Duke) and Terrence Ross (Washington). Depending on which mock draft you consult, Lamb could be taken anywhere from sixth to the mid-teens (NBADraft.net thinks the Raptors at No. 6; DraftExpress.com has him going 12th to the Bucks; TheHoopsReport.com says 13th to the Suns).

Ostrout also notes that "UConn has never had a one-and-done player, though freshman center Andre Drummond is contemplating just such a move. Each of the previous 13 Huskies to depart early has been drafted in the first round, with the exception of Khalid El-Amin. El-Amin was drafted with the fifth pick in the second round, the 34th overall, by the Bulls in 2000."

Even though Lamb's departure was expected, he leaves behind a huge void on the Huskies' roster. Alex Oriakhi will transfer and there's a good chance Drummond opts for the NBA too. Coach Jim Calhoun is expected to return, however, but the program will truly be in a rebuilding year with 60 percent of the starters gone while facing no postseason in 2013 because of NCAA sanctions.

The NBA Draft will be held on June 28 in Newark, New Jersey. Last year, UConn guard Kemba Walker was by the Charlotte Bobcats with the No. 9 pick.