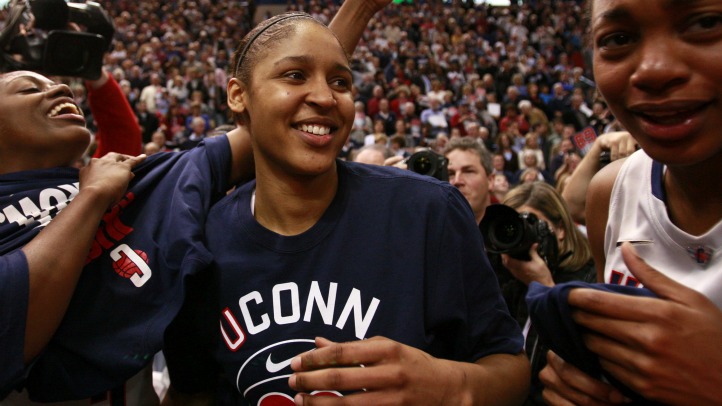 Moments after Maya Moore was selected first overall by the Minnesota Lynx in the WNBA Draft, she explained how her experiences at UConn could help her in professional basketball.

"I think it's something we have learned at Connecticut … energy is contagious whether you're bringing people down or lifting people up," Moore said. "So I just like to be one of those players that lifts people up by always playing hard and having fun on the court."

But Moore also knows that she's going from Storrs, where she was the face of the program, to Minnesota, where she will be low man on the totem pole. "I might not be able to speak this season," Moore said at her introductory news conference. "Yes, ma'am. No, ma'am. I will score for you. What do you need?"

But unlike many players who struggle with the transition from college to the pros, Moore has a few things going for her. Not only is she the best amateur in the country, she also has the experiences that have prepared her for the WNBA.

"I have been able to play with the national team and I played for one of the best coaches in the world (in Geno Auriemma)," Moore said. "I know how to win. I know how to compete. That is the best thing I can bring in right now, just a competitive spirit."

For a Lynx team that went 13-21 in the Western Conference last season, and hasn't finished better than fifth in the conference since 2004, finding someone who knows how to win is high on the to-do list.

Still, there is a huge difference between dominating in college and competing against pros who are just as big and fast and strong. Lynx general manager and head coach Cheryl Reeve understands this.

"Those worlds, no doubt, gave her a glimpse of what she will experience," Reeve said. "But I don't think any rookie can be ready [for the WNBA] until they actually go through it. … [W]e have only 12 teams with 11 players -- the veterans, they know this league and they know how to win in this league."

Clearly the Lynx have high hopes for Moore, even if she doesn't immediately step onto the floor and contribute 20 points and 10 rebounds a night. They made it clear in the days leading up to the draft that they would draft Moore first overall.

"I see a player who is extremely passionate about the game," Reeve said of Moore prior to the draft. "Her ability to shoot the ball is what people look at, but she runs the floor and rebounds so well. She commits to every phase of the game. … She is committed to being the best."

And that's exactly what the Lynx need.