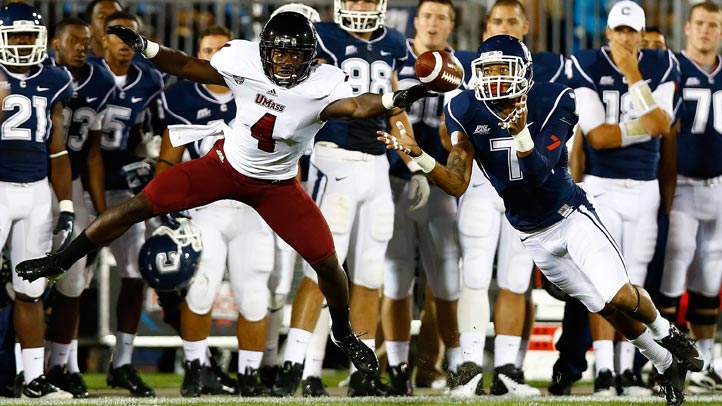 The NFL Draft begins Thursday at 8 p.m., which means that for a handful of former UConn players, their lives are about to change. The mystery remains -- who will go where and when -- but the uncertainty hasn't slowed the speculation.

With a day until then proceedings officially get underway, the consensus goes something like this: Blidi Wreh-Wilson is one of the best cornerbacks in the country, linebacker Sio Moore has seen his stock rise since the Senior Bowl, and CB Dwayne Gratz and DE/OLB Trevardo Williams should expect to hear their names called at some point in the later rounds.

But what the media reports doesn't necessarily mesh with how NFL teams are actually feeling about these players; that's part of the cat-and-mouse game this time of year. There's no benefit for an organization tipping its hand so obfuscation rules. That said, we can still get an overall sense for how teams feel about some of these players thanks to NFL Network draft expert Mike Mayock, whose thoughts often mirror those of the organizations he covers.

Which brings us to Dwayne Gratz. Here's what Mayock said about the "other" UConn cornerback last week.

"Gratz is kind of an intriguing guy. He's long, has some size, and he ran better than people think," Mayock said during a conference call with reporters. "He ran 4.47 I had him at the combine. Teams are talking about whether or not he should be a safety, because he tackles. You know, UConn's got two corners, Blidi Wreh-Wilson was supposed to be the more gifted kid on one side, and the Gratz kid on the other. I'm sensing more momentum towards Gratz. I've got him in my third round. He tackles, he competes, he's long, and he ran better than people thought. So there is no way he gets out of third round."

And this is a perfect example of how perception doesn't always match reality. Wreh-Wilson has garnered more attention because of his size and speed but we thought Gratz had a better senior season and, honestly, we wouldn't be surprised if he went as high as Round 2.

Which, incidentally, is how Mayock feels about Moore, too.

"The guy that's moved up the most from the end of the season is probably Sio Moore, the linebacker from Connecticut," Mayock said. "He was kind of a fifth or sixth round consideration in most people's eyes, had a great week in the East-West game and has continued to ascend since then. I think he's going to be a late second round to early third round pick."

The good news: by Saturday night we won't have to guess.