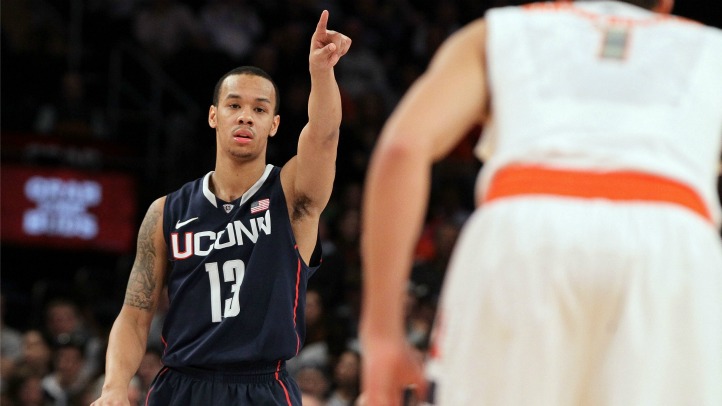 Virtually all the talk this summer has been two things: the uncertainty surrounding Jim Calhoun's future and the egress of talent from the Huskies' roster in the spring, either due to NBA defections or transfers. The former is an annual conversation exacerbated by the recent news that Calhoun broke his hip in a cycling accident. The latter, at least in part, is attributable to NCAA sanctions that will keep UConn out of postseason play in 2013.

But one under-the-radar storyline that could have big implications on the Huskies' season concerns junior point guard Shabazz Napier.

In late June, Napier had opted not to play for the Puerto Rican National Team in preparation for the London Olympics because he wanted to rest a right-foot injury that had plagued him last season. The plan was that he'd be in a walking boot for six weeks. Now, six weeks later, we have an update.

Napier made an appearance at Calhoun's charity all-star game over the weekend, but he was still in a walking boot, and it looks like that'll be the case in the near term.

"I'll have to wear [the boot] another 2 ½-3 weeks," he said according to the Hartford Courant's Dom Amore. "It feels great. I got a CAT-scan the other day and its healing up. I feel like I'm going into the season 100 percent."

It sounds like Napier won't take part in full practices until next month, which will be plenty of time to get him ready for the 2012-13 season. And it'll be his leadership -- in much the same way Kemba Walker led the 2010-11 squad -- that will determine this UConn team's fate.