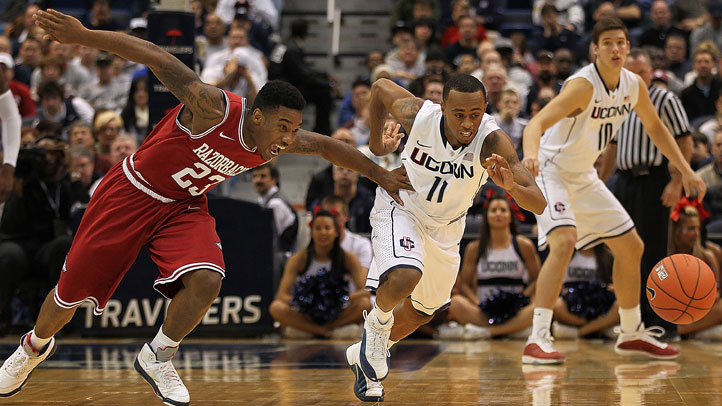 Good news: the NCAA could rule on Ryan Boatright's eligibility as early as Tuesday, a source told the NewTimes.com. The UConn freshman guard missed six games to start the season while the NCAA conducted a similar review and now he's has missed three more.

The second NCAA review apparently stems from an ex-boyfriend of Boatright's mother making addition allegations against Ryan. (We talked about this earlier this month.)

While the Chicago, Illinois freshman has no choice but to let the NCAA decide his fate, he has the full support of his family, friends, and teammates. Details via the Hartford Courant's Dom Amore:
During its two investigations, the NCAA has checked Boatright's grades at East Aurora High and spoken to various people in the Chicago area. NCAA officials have spoken to both Tanesha (Ryan's mother) and Ryan Boatright in the past week.

Mike McAllister, Boatright's father, first AAU coach and cousin of Tanesha's former boyfriend, said he was not part of this current investigation and does not know specifically what the allegation is this time.

"I'm trying to get to the bottom of it," McAllister said, "because at the end of the day, the only person being hurt is Ryan."
Meanwhile, the UConnBlog explains just how important Boatright is to the Huskies. Without him, coach Jim Calhoun has had to abandon the three-guard offense that had success early in the season and instead go with a bigger lineup. This means no rest for the backcourt weary: guards Shabazz Napier and Jeremy Lamb have logged a lot of minutes during Boatright's absence.

Carl Jackson waded through the data and came away with this:

"There is nothing in Boatright's stats that suggest that Lamb's spike in output is due to Boatright in particular. Rather, as Shabazz Napier noted after the Cincinnati game, it's due to having an extra ball-handler in the game. The question then becomes, would UConn have won the past two games with the three-guard lineup available? Moreover for a lineup which, as Jim Calhoun has noted, has difficulty rebounding the ball, do the increases in offensive efficiency outweigh what the team concedes in size, rebounding ability and (presumably) defense?"

Jackson adds that his research "proves nothing definitively" but notes that "This does show how Boatright's value exceeds his statistical output though, because the lineup flexibility is a huge piece of his value. It also helps explain some of the offensive ineptitude we've seen the past two games."

The takeaway: the Huskies need Boatright and the NCAA needs to quit dragging its feet.