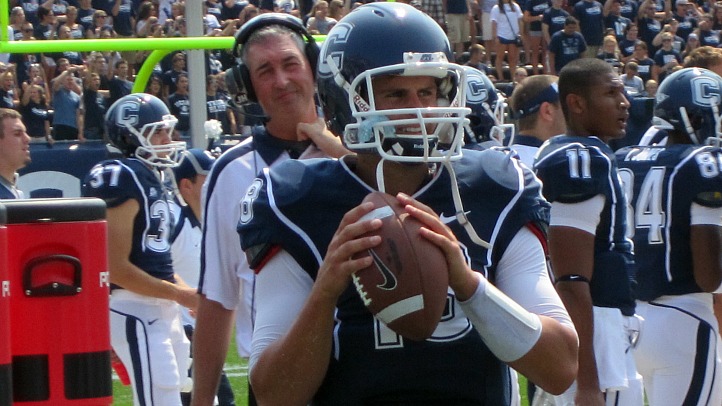 It didn't take Shane Day, the Huskies' new quarterback coach, long to figure out what the rest of us have known for some time: UConn Football is about one thing -- finding a quarterback. Day recently spoke with ESPN.com Big East blogger Andrea Adelson about his job, specifically the part that involves developing a quarterback for a team that stumbled through much of the 2011 season while sophomore Johnny McEntee found his way.

One of the first things Day did when he arrived in Storrs? "I went around to talk to administrators, the athletic director, football operations -- everyone told me about the quarterback situation," he told Adelson. "Even fans randomly told me about the situation at quarterback."

As it stands, the situation is better today than it was a year ago. The Huskies have incumbent McEntee and he'll be challenged by Scott McCummings (the de facto quarterback in wildcat situations last season) and Michael Nebrich (in the running for the starting gig over the first few games of '11). Joining the competition: juco transfer Chandler Whitmer and the two-time Gatorade Connecticut Player of the Year, Casey Cochran.

Day suggests all five players will be given the same opportunity to start, which is what he has to say. It's March, spring practice is still a few weeks off, and there's plenty to be decided. But we're guessing that if all five QBs are at about the same level, the coaching staff will give the nod to Cochran. He has the most upside, he's a prized recruit and after winning just five games a year ago, why not?

"That's the hardest part," Day said. "We talked about this a lot as a staff. We're in a unique situation where we have five guys. After watching them on tape, they all bring something to the table. We are as a staff planning on how to parcel out all those reps. It's going to be difficult. Hopefully somebody emerges halfway through so we can tailor those reps to the guys that are leading the charge."

Day, who has spoken to all the quarterbacks, says McCummings won't be a running-situation-only QB this season but the plan is "to develop him like all the other guys." And while fans may be ready to move on from the McEntee experiment of a year ago, Day was quick to defend the former walk-on.

"It is a process, so it's going to take some time," he said. "You can't make an evaluation in one day. We'll see how they all respond. They're all on a blank slate so to speak. We'll see how they do when they step on the field."

Hopefully, spring practice will go a long way in determining who's in line for the job in the fall. Last spring, the offense was a mess. This time around, the players have had a year in Paul Pasqualoni's system, there should be legitimate competition for quarterback and the Huskies should be better in 2012. And ultimately, that's the point.