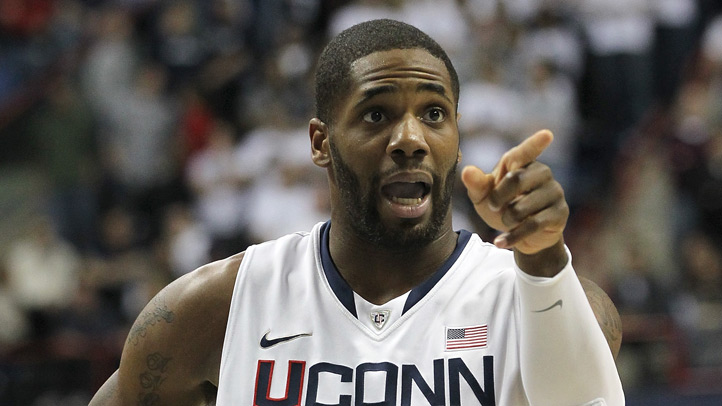 There's still no official word from the school if, as the Connecticut Post reported Wednesday, Alex Oriakhi is leaving UConn but CBSSports.com's Jeff Goodman went right to the source and, well, Oriakhi sounds as good as gone.

"The 6-foot-9 Oriakhi confirmed the news to CBSSports.com on Wednesday night and said he requested his release earlier in the day.

"'I loved my time at UConn and have a ton of respect for Coach (Jim) Calhoun and the coaching staff,' Oriakhi said. 'I had the best year of my life last season when we won the national title, but I'm worried about whether I can finish my career and be able to go to the NCAA tournament my senior season.'"

Originally, Oriakhi's father told the Post that his son was transferring because the Huskies are currently ineligible for the 2013 NCAA Tournament. Goodman writes that, should Oriakhi leave for another Division I program, he would be able to play immediately, instead of having to sit out a year, which is currently the protocol.

If Oriakhi's career at UConn is over after three seasons, he'll have little trouble finding suitors. There's always a need for an athletic shot-blocking big man. The problem, at least during his time with the Huskies, is that Oriakhi seldom lived up to expectations. He should have been more dominant in the paint and a more consistent scorer. This isn't to kick him as he heads out the door -- we were saying this the last two seasons -- just to point out that he can be a lot better. And that's going to have to happen if he hopes to play in the NBA.

For now, though, Oriakhi's moving on. And whether he's failed to reach his potential or not, the loss will be huge for the Huskies, who could also be without Jeremy Lamb and Andre Drummond (possible NBA entrants) as well as Jim Calhoun (commence with the retirement talk).

Calhoun, by the way, said that he wants to leave the program in good shape before he hangs it up for good. Unless something changes in the next few months, he'll almost certainly be on the bench in 2012-13.