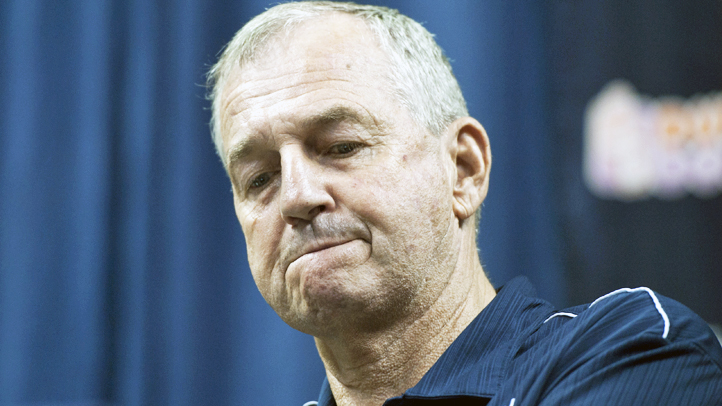 Even before Jim Calhoun made it official at a Thursday afternoon news conference, people were weighing in on what the Hall of Fame coach meant not just for the basketball program at UConn, but what he meant for the sport. Huskies football coach Paul Pasqualoni, who has been on the sidelines in one capacity or another since 1968 and knows something about longevity, offered up some thoughts about Calhoun finally deciding to hang it up.

"Obviously, Coach Calhoun is a great coach," Pasqualoni said via the Hartford Courant. "Everybody here will miss him and what he's done. …Obviously Jim Calhoun is a legendary coach, a guy that I have tremendous respect -- his toughness, to me, I have tremendous respect for, his coaching ability. He's won every place he's ever been. He won here early in his career. I remember when he came here it was probably a so-so first year but the next year they were on the rise and they never stopped. Never stopped getting better.

"You know it's one thing in sports, in high level athletics, pro sports, it's one thing to get there, to bring your program, to elevate your program but it's whole other thing to keep it there. The thing I admire most about Coach Calhoun is the same thing I admired about coach [Tom] Osborne when he was at Nebraska. Not only did these coaches get their programs to the top, the highest level, they kept them there and that's the true sign of greatness to me."

UConn women's coach Geno Auriemma shared his thoughts, too.

"His contributions to this University have been positive and will be long lasting. I want to take this opportunity to wish Jim Calhoun all my best in a long, happy and healthy retirement," he said. "I have always admired Kevin Ollie as a person and as a player and know that he will make the most of this opportunity. He has had great success in everything he has done and I am confident this will be no exception."

For the record, in Calhoun's first year (1986-87) the Huskies went 9-19. That was the last time they had a losing record. Eight of Calhoun's teams won at least 30 games and there were the three national titles, the first coming in 1999, the last in 2010-11 when the Kemba Walker-led Huskies made an improbable run through the tournament. Some people will say that Calhoun should've retired then but that would've been too easy. He didn't get the program to where it is by taking the path of least resistance. And while he'll always have his critics it's hard to argue with his results.