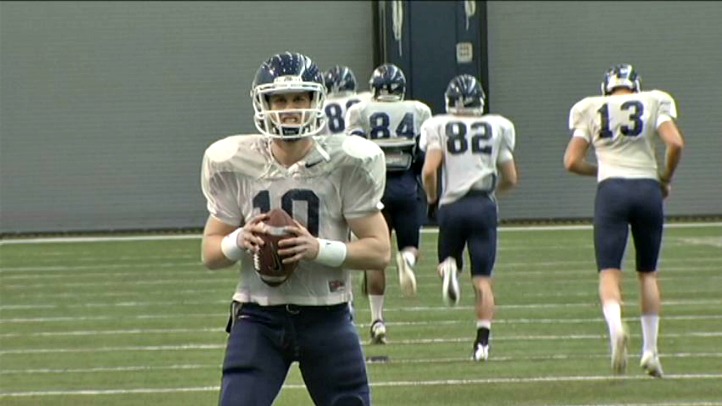 Paul Pasqualoni made it official last week, naming junior college transfer Chandler Whitmer the Huskies' starting quarterback going into camp. It wasn't a complete surprise -- at least to those in the media who watched Whitmer shine in the Spring Game -- even if Pasqualoni downplayed it at the time.

With the defense poised to be as good if not better than last year's team, and now with the quarterback position settled, Pasqualoni's second season is shaping up to be a marked improvement over 5-7 effort of a year ago. So why did he decide to name a starter now, more than three weeks before UConn hosts UMass in the season opener? Basically, it came down to this: because he could.

"It's a judgment call on my part, he said Friday. "Sometimes I try and gather all the information and make a gut call. … I wanted to give the starter coming into camp more of an opportunity with the reps, to work with the first team guys in order to develop the communication aspect and the chemistry aspect."

Whitmer added: "It's chemistry. This is the most important time and where the season is won. It's out there getting in rhythm with guys and it's exciting."

These are luxuries that Pasqualoni and the offense weren't afforded a year ago because Johnny McEntee, who was eventually named the starter, was short on experience and didn't land the gig until late in training camp. And the passing game suffered because of it.

Pasqualoni also pointed out another benefit of settling on a QB now: he can concentrate on naming Whitmer's backup, too, because it's almost guaranteed that the Huskies will need their backup to come in and win a game at some point this season. Which means that sophomores Scott McCummings and Michael Nebrich, along with McEntee and freshman Casey Cochran are all in the mix for that distinction (though Cochran, who broke his wrist last month, could be redshirted).

"(Pasqualoni) told us yesterday that Chandler(Whitmer) is the No. 1 guy and I didn't think much of it," Nebrich said late last week. "It's the beginning of camp and a long way to go. My goal this camp is to keep getting better. It's a long season and I have to be ready."

That's the right mindset to have if for no other reason than the one Pasqualoni laid out above: the Huskies are going to need their No. 2 QB to step up at some point so, as Nebrich points out, he might as well prepare like he's the starter.