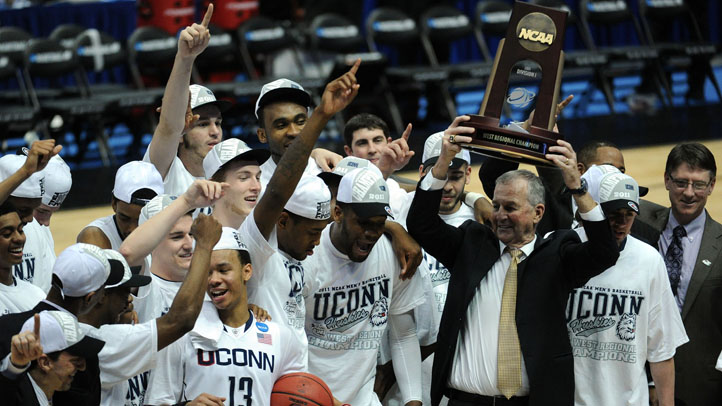 The slow migration of the big-name Big East teams to the ACC might seem like a swell idea for the bottom line of the universities involved, but logistically, the reshuffling of conference rosters doesn't appear to have much support.

Last week, Syracuse coach Jim Boeheim made it clear that this was a football-driven decision. UConn has been noncommittal about their future plans, whether it's with the Big East or the ACC. Louisville coach Rick Pitino has some thoughts on the Huskies relocating to the ACC: it would be the "dumbest thing" he's ever heard.

That leaves little room for interpretation.

There's more, of course. During an interview with SNY.tv Tuesday, Pitino offered details (via the ZagsBlog).

"I almost went to Connecticut, it was Connecticut or UMass," the Louisville coach said. "I remember when they were struggling to win the Yankee Conference. In all of sports, the greatest building job I've seen in my life was done at Connecticut. The Big East has taken them from a Yankee Conference school [to where they are now]."

With that being said, how can you want to leave? Pitino continued. "Why would you want to leave? My biggest mistake I made in my life is when I left Camelot [Kentucky]" to lead the Boston Celtics in 1997. "They're leaving Camelot. It's the dumbest thing I've ever heard of."

We get the part about "remembering where you come from," but it's also important to remember something Boeheim said last week. "I think one thing you have to understand about this move is that we are not leaving the Big East that we were founding fathers for," Boeheim said. "The 9-10 team league where everyone was in the same geographical area. I would be upset if we left that. We wouldn't have left that conference, but because of football … this isn't something new."

Pitino either doesn't understand the economics of the situation (doubtful) or he's just choosing to ignore them (more likely).

"Did you ever think that it ever crossed the mind of John Wooden to go into the Atlantic Coast Conference because they were bigger than the Pac-10 when he was winning 11 championships? Pitino asked. "Do you ever think it crossed his mind? No, when you're great winner, those things don't cross your mind."

Again, we're talking about two completely different situations, in different eras, and in the case of ACC expansion, with billions of dollars at stake. We're guessing that even in the late '60s, if a conference offered UCLA the promise of piles of cash, the school's president -- not Wooden -- would've happily obliged. (Which is what happened to Boeheim, who wasn't told of Syracuse's ACC relocation plans until after it had been decided by the administration higher-ups.)

To which Pitino says, "It was a smart move for [Pittsburgh and Syracuse], in their minds. Syracuse and Pittsburgh's Presidents want something different. They're not taking into consideration all the alumni that Syracuse has in the area."

Presumably, Pitino understands that joining the ACC doesn't require the school to physically relocate south of the Mason-Dixon line. His point (we think) is that if you're successful, why mess up a good thing?

To which we would again point out: it has everything to do with money.