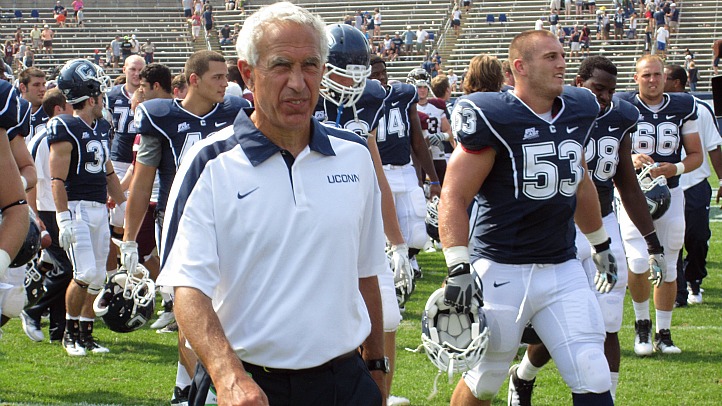 Friday night against Iowa State might be the night we finally see running back DJ Shoemate. The USC transfer was originally penciled in as the guy to help replace Jordan Todman, who now plays for the Chargers.

But when Hurricane Irene wreaked havoc up and down the Northeast two weeks ago, the Huskies' Thursday-night season opener against Fordham was pushed to Saturday, and Shoemate tweaked his ankle during that Friday's practice. Which meant that he was sidelined against Fordham while redshirt sophomore Lyle McCombs rushed for four touchdowns. And even though head coach Paul Pasqualoni reckoned that Shoemate was "92 percent" against Vanderbilt last week, he still didn't see the field.

"He got some work in [Wednesday]. I want to see how he responds [Thursday] but I think he's heading in the right direction," Pasqualoni said during his press conference previewing the Iowa State game.

If nothing else, Shoemate provides the Huskies with another rushing threat, something they can't have enough of while the passing game continues to evolve. While the easy answer is "Just keep giving it to McCombs," there's no reason to overwork him so early in the season with a full conference schedule still to come.

The Hartford Courant also notes that one of the Huskies' best defenders, defensive end Jesse Joseph, is one week closer to returning (which holds for everybody coming back from injury, right?). "We're going to work through this week and see how he's doing but my sense is it may not be until next week," Pasqualoni said. It's not much but it's better than "he's done for the season," so we'll take it.
***

Recruiting news has taken a backseat now that the season's underway, but that doesn't mean the Huskies aren't always looking to improve the roster. Pasqualoni also talked during his presser about three transfers now in Storrs: LB Ryan Donohue from Maryland, WR Shakim Phillips from Boston College and OL Alex Mateas from Penn State.

Via the Courant: ""Shakim is a quality wide receiver. We knew of him in high school offered him a scholarship. He's here in the system. Mateas we offered him out of high school as well, big, talented good feet so a positive addition now. They can't play but can practice. Donohue is here. Ryan is doing terrific. In his first week the coaches voted him the scout team player of the week. He has a good handle on the system because he played in it. He's been a positive addition. Those three players are three real quality kids."

The 2011 season might be defined by the lack of a consistent offense, but you can't say Pasqualoni isn't addressing the issue through recruiting. The staff has done more over the summer than we usually see during an entire recruiting cycle.