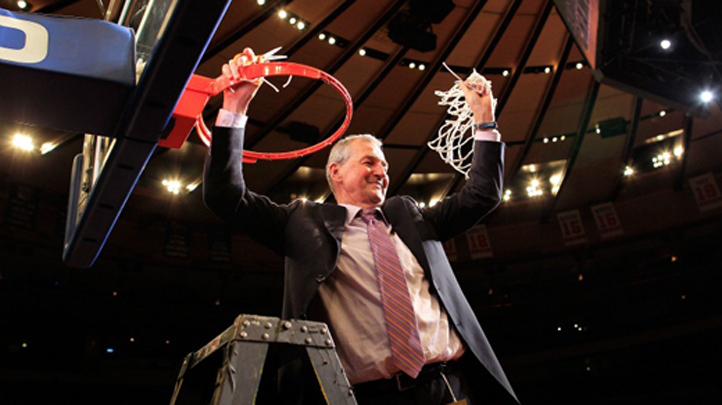 At various points in the previous four months we've heard Jim Calhoun say everything from he'd return to lead the Huskies in 2011-12 to he wasn't sure if he'd coach again. We also heard from UConn recruits that Calhoun promised them in June that he'd be around for the foreseeable future.
And yet, Calhoun has yet to publicly admit as much because … well, we have no idea. The most recent example came last week (it's also led to speculation about who would replace Calhoun).

The latest, via the ZagsBlog's Adam Zagoria, shouldn't be particularly surprising since most people long grew tired of waiting on an official statement from Calhoun and just assumed he'd be back.

"…After spending the month of July on the recruiting trail, he's telling recruits he's in it for the long haul," Zagoria wrote Tuesday.

"He said, 'As long as I'm standing, I'm going to be coaching,'" Christ the King guard Omar Calhoun, who committed to UConn for 2012, told SNY.tv Saturday after he scored a team-best 34 points in Team New York's victory over Team USA in the inaugural Franchise Classic.

"He said he wants to make me reach my potential. He wants to get me to the NBA. That's the kind of coach I want to play for."

So it appears that the mystery is solved. Again.
And while nothing is official until Calhoun releases a statement on university letterhead, we remain curious why he's being so mysterious about it with the academic year just weeks away.

In related basketball recruiting news, Zagoria writes that Chris McCullough, a 6-9 2014 forward from New York, took an unofficial visit to UConn last week with several AAU teammates.

"I think Calhoun will be there by the time Chris leaves for school," said his AAU coach, Terrance "Munch" Williams. "He's planning on winning another national championship."

We've said it countless times this summer, but we can't imagine Calhoun would retire before the 2011-12 season given all the work he's done on the recruiting trail, not to mention the team he has returning. In April, it might've seemed more plausible because the school's best player, Kemba Walker, was headed to the NBA. But Jeremy Lamb is going to be a special player, too. And because of Calhoun's recruiting efforts, Lamb will have some talent around him. It's enough to, you know, make you want to coach a while longer.