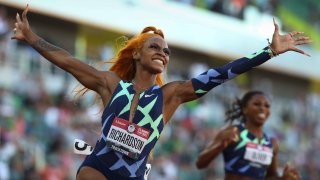 Report: Richardson could miss Olympic 100m after testing positive for marijuana originally appeared on NBC Sports Boston
UPDATE: American champion Sha'Carri Richardson cannot run in the Olympic 100-meter race after testing positive for a chemical found in marijuana. Read the full update here.
America's fastest woman might not be at the 2020 Tokyo Olympics after all.
Sprinter Sha'Carri Richardson, who captivated audiences at the U.S. Olympic Trials in June while winning the 100m dash with a time of 10.86 seconds, has been suspended from the Olympic team due to a failed drug test, her lawyer told TODAY.
A U.S. Olympic source told NBC News that Richardson failed the test after her win and that she tested positive for THC, the chemical found in marijuana.
With all natural and synthetic cannabinoids are prohibited by the World Anti-Doping Agency, Richardson's results could be voided if the positive test came during the trials. If the 21-year-old loses her spot on the Olympic team, she would be replaced by Jenna Prandini, who finished fourth in the 100m dash at the trials.
Depending on the length of a potential suspension, Richardson still could be eligible to compete in the 4x100m relay on Aug. 5-6.
Richardson tweeted "I am human" on Thursday before news of the positive test broke.
Richardson was also set Friday morning to appear on the TODAY Show to speak about her future.
Before turning professional, the Dallas native captured the 2019 NCAA title in the 100m as a freshman at LSU. In April at the Miramar Invitational, Richardson ran the 100 meters in 10.72 seconds, which was then the sixth-fasted time recorded by a woman in the event. During the trials semifinal in June, she ran a wind-aided 10.68 seconds, pointing to the clock as she crossed the finish line.
That bravado, combined with her outgoing personality, orange hair and full glam look, made her the breakout star of the Olympic trials.
Tokyo Olympics
Watch all the action from the Tokyo Olympics live on NBC
Richardson was expected to be a favorite in the 100 meters at the Tokyo Olympics, seeking to become the first American woman to win gold in the event since Gail Devers in 1996.
Copyright RSN