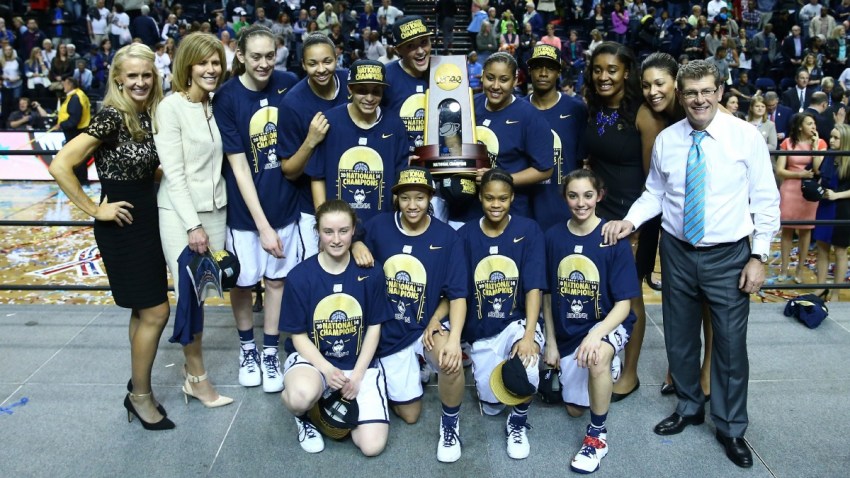 When Geno Auriemma isn't winning championships he's usually talking about how to make women's basketball more accessible and popular to a sports-loving nation. Well, he certainly did his part (and then some) Tuesday night when the undefeated Huskies took down the previously undefeated Fighting Irish for their ninth national title under the Hall of Fame coach.

The game, which aired on ESPN, earned a 2.8 rating, a 40 percent increase from a year ago and the highest for any women's college basketball game in a decade, dating back to UConn's NCAA championship victory over Tennessee in 2004.

Details via an ESPN press release:
The highly anticipated matchup averaged 3.21 million households and 4.27 viewers (P2+) – fourth and sixth best, respectively, since ESPN began televising the women's championship in 1996. In addition, the 2.8 rating represents an increase of 40 percent over a 2.0 a year ago for UConn over Louisville.

In addition, nearly 100,000 fans turned to WatchESPN for the traditional telecast and the special ESPN3 Surround production of the matchup. Those 100,000 thousand fans generated 3,800,000 minutes on the game, both all-time highs for a women's college basketball game. Additionally, the game generated the most minutes viewed for an ESPN3 Surround production to date.

Among the metered markets, Hartford/New Haven led the way with a 29.3 rating, making it the market's highest overnight for a program on cable in 2014. Nashville was the second highest-rated market with a 6.8 followed by Knoxville (6.0), Louisville (5.5), Indianapolis (4.8), Raleigh-Durham (4.7), Providence (4.6), New York (4.6), Memphis (4.5) and Greenville (4.5).