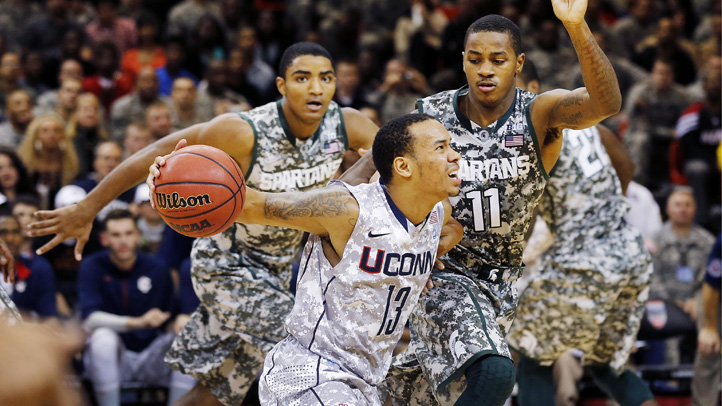 For UConn-related sports news, this is the slowest part of the calendar. It'll remains this way for another six weeks or so until training camp opens for the football team. But that doesn't mean it's one big summer vacation. Take arguably the three most important cogs on the Huskies' basketball roster, for example.

Shabazz Napier, Ryan Boatright and DeAndre Daniels all played critical roles in UConn's 20-win season, and the trio will spend the coming days at the roundball version of summer camp, all in an effort to improve their collective games.

Next week, the backcourt of Napier and Boatright are headed to the Point Guard Skills Academy in Union, N.J.

"They'll have an opportunity to start building their resume early, going to the camps and having GM's right there watching them," coach Kevin Ollie said, according to the Hartford Courant. "It's going to be a good year for them."

That's the hope. Napier and Boatright both hope the NBA is in their futures, and a strong 2013-14 season should only cement any future job opportunities.

According to the Courant, the camp will consist of 10 hours of workout time and feature NBAers Deron Williams and Kyrie Irving. Then it's off to Chris Paul's camp, CP3, later this summer.

Daniels, meanwhile, is off to Washington, D.C. for Kevin Durant's camp for wing players.

"I already called KD and told him to take good care of DeAndre," said Ollie, who was once a teammate of Durant's with the Oklahoma Thunder.

The upcoming season is a big one for UConn. They're coming off an improbably successful rookie year for Kevin Ollie, and now, with all five starters returning, they're eligible for the AAC and NCAA postseason. If things go well, the Huskies will keep their names in the national conversation, despite no longer being affiliated with what most people would call a top-flight conference. If UConn falters, however, long-term recruiting could become more difficult. We're guessing neither Ollie nor Jim Calhoun will let that happen.