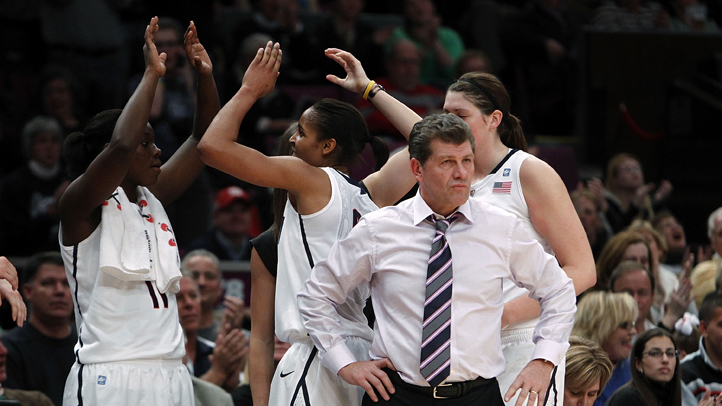 The UConn women's basketball team isn't one to shy away from competition. Last Wednesday the university announced that the Huskies would face the national champion Texas A&M Aggies in the Jimmy V Classic during the 2011-2012 season.

At the time we wrote that "Auriemma has a history of scheduling tough opponents. Last season, the Huskies played Baylor, a game in which then-freshman center Stefanie Dolson appeared overmatched. That wasn't totally unexpected; Dolson was going up against Brittney Griner, one of the best centers in the country. But the experience made Dolson a better, more confident player down the stretch, when the Huskies needed her production because Maya Moore faced constant double-teams or Tiffany Hayes couldn't find her jumper."

UConn also traveled to Stanford, where they lost their only regular-season game. Additionally, the Huskies faced Ohio St., Florida St., UNC, Duke and Oklahoma -- all top-25 teams -- and and won every game by an average of 33 points.

Then there was the Big East Conference -- the best conference in the country -- which the Huskies navigated through undefeated.

It makes sense, then, that next season would be no different. Auriemma believes that the best way to prepare his team is not by scheduling cream puffs early and easing into conference play, but by testing them throughout, against the best programs in the country.

While the official schedule hasn't yet been released, we do know that it will be tough. No shocker there. Details via the Hartford Courant:
The Huskies will have another top-notch non-conference schedule featuring home games against Stanford and North Carolina and road games at Baylor, College of Charleston, Oklahoma and Duke. It's also likely the Huskies will host another tournament Thanksgiving weekend at Gampel Pavilion involving three other programs. The games at Baylor and College of Charleston will follow midterms and precede Christmas break. The Stanford game is expected to be in November. The Huskies will also be paired with Notre Dame again on the Big East schedule, meaning a third season of home-and-home games.
And when the dust settles in late February, there's every reason to think that the Huskies will atop the Big East and among the best teams in the country heading into March Madness.