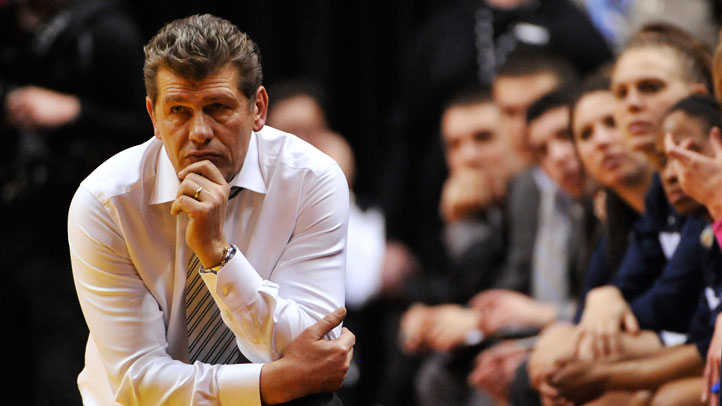 The UConn women's team lost out one of their prized recruits for the 2013 class, and freshman Kiah Stokes underwent surgery last week to repair a torn tendon in her right foot, but Geno Auriemma's program will be fine. Diamond DeShields may be headed for North Carolina, but the Huskies' 2012 recruiting class may prove to be Auriemma's best ever. And Stokes should be at full strength when the team resumes practice next fall.

And that's good news because, as is usually the case, UConn's schedule will be among the most difficult in the nation. The Huskies, who lost to Notre Dame in the Final Four the last two seasons, will face all three national semifinalists next season, which means matchups against Stanford and Baylor.

The rest of the non-conference schedule, released Monday by the university, is below:

Charleston (Nov. 11), Texas A&M (Nov. 18), Colgate (Nov. 28), Maryland (Dec. 3, Jimmy V Classic), Penn State (Dec. 6) and Oakland (Dec. 19), at Hartford (Dec. 22) and at Oregon (Dec. 31 in the Knight Classic by Nike). The Huskies will also play at home against Duke.

Auriemma has never been a proponent of the theory that weak early season schedules help teams build confidence. He annually has his Huskies facing the country's best teams. Here's what we wrote in April 2011 about this phenomenon.

"Auriemma has a history of scheduling tough opponents. Last season, the Huskies played Baylor, a game in which then-freshman center Stefanie Dolson appeared overmatched. That wasn't totally unexpected; Dolson was going up against Brittney Griner, one of the best centers in the country. But the experience made Dolson a better, more confident player down the stretch, when the Huskies needed her production because Maya Moore faced constant double-teams or Tiffany Hayes couldn't find her jumper."

It's a strategy not suited for every program but it's hard to argue with Auriemma's success.