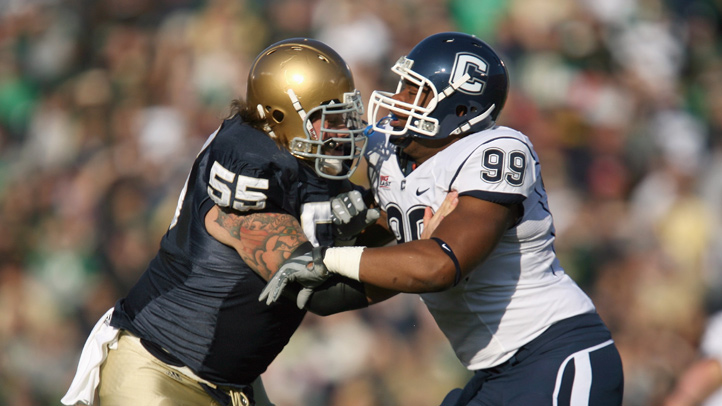 It is, as they say, go time. The NFL Draft starts Thursday and runs through Saturday. By Friday, 32 players will have new homes and there's a chance former UConn defensive tackle Kendall Reyes is one of them.

More likely, however, Reyes will go in Round 2, which takes place Friday evening. And unlike running back Jordan Todman, the 2010 Big East Offensive Player of the Year who was thought to be a pre-draft second-rounder, Reyes' draft stock appears legit. He had a solid senior season and was impressive at January's Senior Bowl, February's combine and his March pro day. All that's left is to sit back and find out where he's headed.

There has been speculation that the Patriots, who have two first-rounders, might be a possible destination, and even the 49ers, who took pass-rushing specialist Aldon Brown a year ago, have been mentioned. The former makes some sense but the latter is a complete mystery. Not because Reyes isn't worthy but because San Francisco had one of the league's best defenses last year, especially along its defensive line.

On Thursday, Steve Muench of Scouts, Inc. discussed what the 49ers might do:

"Jeff Allen from Illinois and Kevin Zeitler from Wisconsin are two guards they could take a look at -- guys who might normally go in the second round. They could consider a defensive end, like a Kendall Reyes from Connecticut, but it's hard to say you're looking to the future there, as well as Justin Smith is playing. It's a little early for Derek Wolfe from Cincinnati, maybe Devon Still from Penn State. Those are all guys that are fringe guys (first-round wise)."

New England, meanwhile, has bigger needs in the secondary but still need to add depth along the D-line. Which is why Reyes could be a possibility when the Pats go on the clock with picks No. 27 and 31.

"I'd say like every year, there are different positions, there are certain positions that are deeper than others," Patriots director of player personnel Nick Caserio said according to the Milford Daily News. "I think the quantity of front seven players, I'd say is higher than it's been in the past. There are some other positions where maybe there aren't as many players."

One way or the other, we'll know Reyes' fate by Saturday night.