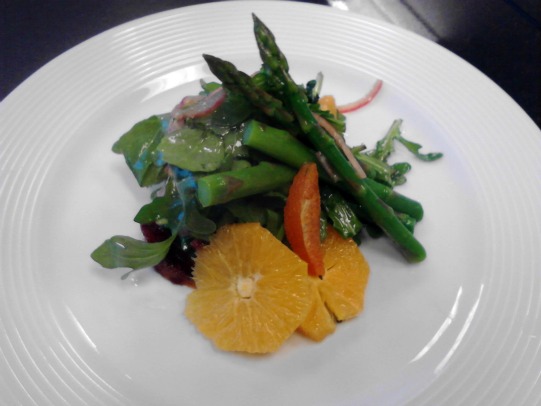 1 Bunch Fresh Asparagus-tougher ends removed, cut into 2" pieces
3 Oranges-peeled and cut into segments
2 Tbsp. White Balsamic Vinegar-or substitute any favorite vinegar
2 tsp. Dijon Mustard
2 tsp. Shallots-finely chopped
¼ Cup Extra Virgin Olive Oil
1 Tbsp. Fresh Tarragon-removed from stem, chopped
1 Bunch Arugula-washed and spin dried, or substitute any favorite green
Salt, Black Pepper, and Sugar to Taste
Bring a pot of salted water to a boil, add half of the asparagus, boil without a cover for about 2 minutes or until desired tenderness. Remove and place in a bowl of ice and water. Repeat with remaining asparagus. Drain, pat dry asparagus and reserve.
To make dressing, whisk together the vinegar, mustard, and shallots in a bowl. Gradually whisk in the olive oil. Add the tarragon and season to taste with salt, black pepper and sugar.
To serve, combine the asparagus, citrus segments, and arugula in a bowl. Toss with the dressing, coating evenly. Divide onto serving plates and enjoy!