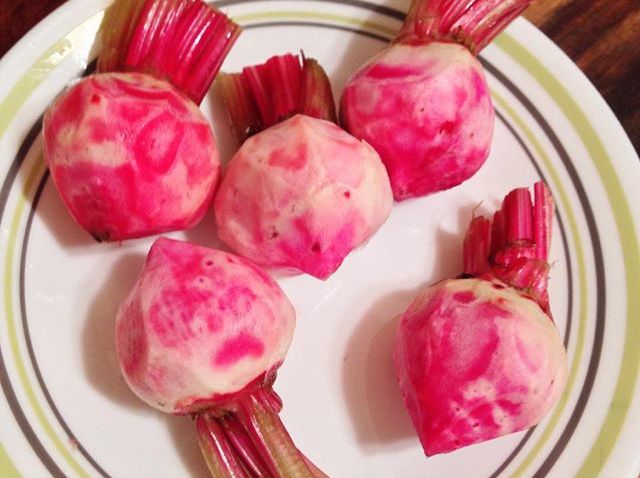 4 Beets-medium size
1 French Bread-sliced into 1/3" thick slices
½ Cup Extra Virgin Olive Oil
8 Oz. Cream Cheese-softened
4 Oz. Blue Cheese-crumbled very finely
2 Cups Lettuce-any favorite variety, shredded
2 Tbsp. White Balsamic Vinegar
2 Tbsp. Extra Virgin Olive Oil
Salt and Black Pepper To Taste
Preparation

• Preheat oven to 400 °F. Place the beets in a foil package, seal tightly, place on a cookie sheet and bake for about 1 hour or until tender. Let cool to room temperature before peeling and slicing thin in a size that will fit on the bread.
• Lay out sliced French bread on a cookie sheet. Brush both sides with the olive oil, seasoning the top side with salt and black pepper. Bake in the oven for about 6-8 minutes or until light golden brown and moderately crisp.
Taste Of Today
• Prepare the blue cheese mousse by whipping the cream cheese on high speed with a beater or whisk attachment. Add the blue cheese, whip until fluffy and season to taste with salt and black pepper.
• Toss the lettuce with the vinegar and second measure of olive oil, seasoning to taste with salt and pepper.
• When ready to assemble, spread each crostini with about 2 tsp of the blue cheese mousse, top with some lettuce, and top with the sliced beets. Arrange on a serving platter and enjoy!
Lincoln Culinary Insitute's Website: www.lincolnculinary.edu