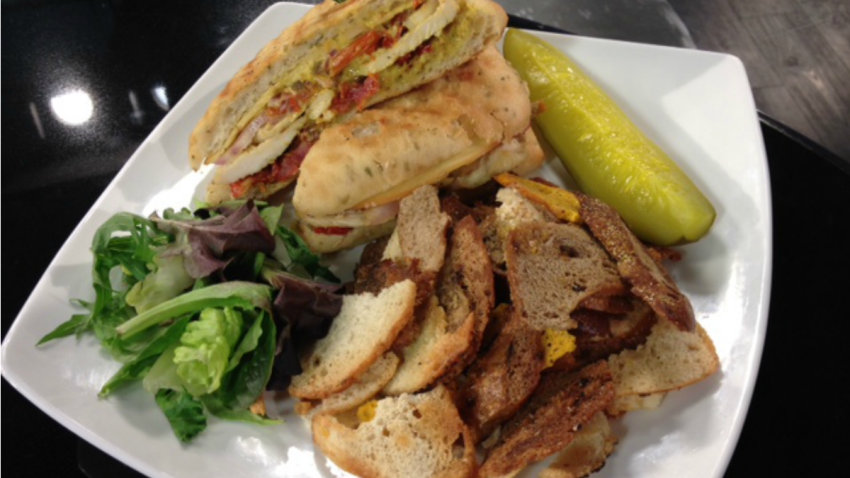 Ingredients:
4 - 6oz. chicken breasts
1 – red onion
12 – sun-dried tomatoes
1 – bell pepper
8 – slices smoked gouda cheese
4 – rosemary focaccia breads
8oz. – curry mayo (recipe below)

4TB. – olive oil
1/8TSP. – salt
1/8TSP. – black pepper
1TB. – melted butter

Curry Mayo Recipe
8oz. – refrigerated mayonnaise
1TB. – curry powder
1/2TB. – cumin seasoning
Sprinkle of salt & pepper


Directions:
Preheat panini press/sandwich grill to 450 degrees. Begin by preparing curry mayo. In a mixing bowl, whisk refrigerated mayo, curry powder, cumin, salt and pepper together. Once blended, set mayo aside in refrigerator. Unused curry mayo may be stored in refrigerator for several weeks in sealed container and may be made ahead of time.
To begin, heat a sauté pan on medium heat with 2 TB of olive oil. Cut bell pepper, red onion and sun-dried tomatoes into julienne strips. Once cut, set aside for later use. Remove chicken from packaging and rinse in cold water then pat dry. Season both sides of chicken breast with salt & pepper and gently place in heated sauté pan. Cook each side for 3-5min. to a golden brown and internal temp 165 degrees. Remove chicken from pan and let rest on a plate. Now, add remaining oil to pan and heat once again. Place bell peppers and red onions into sauté pan. Cook both for approximately 5 min. until softened. Add julienne sundried tomatoes to pan and continue to sauté while mixing for additional minute. Remove from stovetop and place vegetables in a bowl.
Start assembly process by slicing rosemary focaccia breads in half. Remove curry mayo from refrigerator and spread both top and bottom halves of breads evenly. Slice chicken breasts on bias into several pieces for each one and place on bottoms of breads. Next, using ¼ of the vegetable mixture for each sandwich add to the top of the chicken. Lastly place 2 pieces of the smoked Gouda cheese over vegetable mixture and close with tops of breads. Brush bread tops with melted butter and insert into panini press.
Grill sandwiches for 3 minutes then rotate ¼ of a turn and grill for another 2 minutes. Remove from panini press using tongs and allow to rest 1 minute. Cut sandwich in half from corner to corner and place on plate. Serve with mixed green salad or some herbed chips.