NBC Connecticut First Alert meteorologists are forecasting a major winter storm to move into the state by daybreak Monday.
A strong area of low pressure will spread snow into the state before the Monday morning commute. Snow will become steadier and heavier by afternoon.
A Winter Storm Warning is in effect for all of Connecticut through Tuesday morning.
Several schools have closed or switched to a remote learning day for tomorrow. You can see the full list here.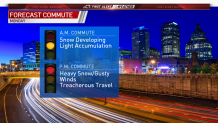 NBC Connecticut meteorologists believe travel will be treacherous for the evening commute.
How Much Snow You May See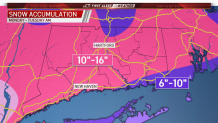 NBC Connecticut meteorologists are forecasting 10 to 16 inches of snow for most of Connecticut. Mixing along coastal areas of eastern Connecticut will result in snowfall totals of 6 to 10 inches.
Weather Stories
Timing Out The Storm
Light snow develops around and just before sunrise.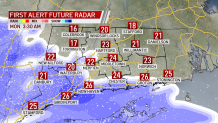 Snow becomes steadier and heavier with accumulation likely by mid-morning.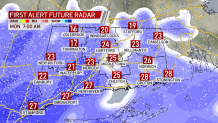 Snow becomes heavy at times around noon and wind gusts increase.
By the afternoon, there is heavy snow falling, gusty winds and treacherous travel.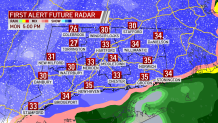 After dinner time, the mixing begins to work north and continues through the evening.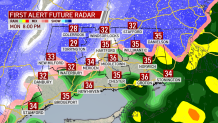 Most of the state could end up with more than one foot of snow.
Impacts of the Storm
Along with heavy snow Monday afternoon, winds will start gusting 30 to as high as 50 mph.
White out conditions can't be ruled out for a time Monday afternoon.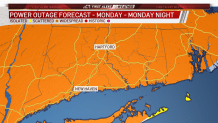 Scattered power outages are possible.