A heat advisory is in effect for all of Connecticut as a result of high heat index values. Feels like temperatures will range from 98 to 104 degrees.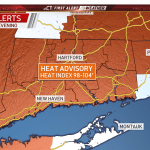 Along with the high heat and humidity, dry conditions will continue over the next several days. There is the chance of a pop up shower or thunderstorm each day.
A better chance of showers and storms are likely toward the weekend as a cold front approaches and breaks the heat and humidity.