Monday Weather Blog
A weak cold front will move into Connecticut tonight bringing a period of light rain and snow during the overnight. A few towns could see a bit of minor snow accumulation just prior to daybreak.
Temperatures will drop a bit Tuesday behind the front. Highs will be in the 30s across the state.
By Friday, some bitterly cold air will filter in from the north. Temperatures will drop below zero late Friday night and with a strong gusty wind we are expecting wind chills well below zero. Wind chills will be between -20F and -35F which is enough to cause frostbite in minutes.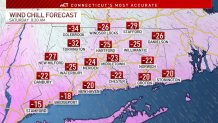 This cold will come on the heels of a remarkably warm January. Since weather records have been kept in Windsor Locks (since the 50s) this January was the warmest on record. The coldest temperature in January was only 22 degrees - well above an average January low temperature.