The NBC Connecticut First Alert meteorologists are tracking a chance for snow in parts of the state Thursday night and into Friday morning.
There is a possibility of snow accumulation, especially in the northwest hills.
Clouds will increase overnight with showers expected by morning. High temperatures will be in the upper 40s Thursday with rain that will be heavy at times, with 1 to 2 inches possible.
Gusty winds are also possible.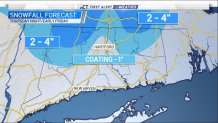 The rain is expected to change to wet snow in the hills by nighttime and into the morning hours. The best chance for accumulation will be in the hill towns.
The rain and snow showers will continue Friday with gusty winds, the heaviest of it clearing up through the afternoon, but still cold with scattered rain and snow possible.