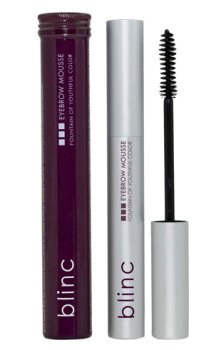 Blinc
Blinc's innovative new Eyebrow Mousse.
BUT I BLINC-ED: We've never quite gotten the hang of eyebrow pencils and powders. We love the sleek shaping effect of a well-groomed brow but we lack serious direction when it comes to actually filling in the cracks. That's why we're so relieved we found Blinc's Fountain of Youthful Color Eyebrow Mousse. By the same innovative makers of our absolute favorite tubing mascara, Blinc takes the guesswork out of creating a full bushy brow. Water-resistant pigments are whipped into the lightweight mousse and are simply applied with the brush applicator for natural smudge-proof color. Not to mention, whipped into that same formula is an anti-aging peptide to moisturize and treat your brow's skin all day long.
BUY IT NOW: Order Blinc's Eyebrow Mousse online for $25.