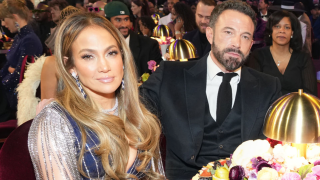 Ben Affleck has been to countless awards shows in his career, but it was his presence at the Grammy Awards last month that really had people talking.
Affleck went to the ceremony with wife Jennifer Lopez and was caught looking kind of bored, which inspired lots of jokes and memes about how he'd rather be at his beloved Dunkin'. Affleck is frequently spotted at the coffee chain, and confirmed his fandom by starring in a Super Bowl ad for the company a week later.
Affleck, who directed and stars in the upcoming film "Air," says all the hoopla about him being miserable at the Grammys gets it wrong.
"I had a good time at the Grammys," he told The Hollywood Reporter. "My wife was going, and I thought, 'Well, there'll be good music. It might be fun.' At movie award shows, it's speeches and, like, sound-mixing webinars. But I thought this would be fun."
Affleck says the memes were the result of bad timing – specifically, the shot of him whispering something to his wife, and her saying something back.
"I saw (Grammy host Trevor Noah approach) and I was like, 'Oh, God,' he said. "They were framing us in this shot, but I didn't know they were rolling. I leaned into her and I was like, 'As soon they start rolling, I'm going to slide away from you and leave you sitting next to Trevor.' She goes, 'You better f------ not leave.' That's a husband-and-wife thing."
The "Gone Girl" star said he's not exactly hip to what's going on in the music scene, despite being married to a pop star.
"I mean, some of it is, I'm like, 'All right, who is this act?' Like, I don't keep up. My wife does, obviously," he said. "And yeah, it is your wife's work event."
Affleck, who has gone to rehab multiple times for alcohol addiction, also brought up headlines implying he was drunk at the ceremony. While Affleck said he has gone to awards show "pissed off" and "bored," that wasn't the case this time.
"I've gone to award shows and been drunk, a bunch. Nobody ever once said I'm drunk. (But at the Grammys) they were like, 'He's drunk.' And I thought, that's interesting," he said.
Affleck says comments like that add to the stigma of getting help.
"That raises a whole other thing about whether or not it's wise to acknowledge addiction because there's a lot of compassion, but there is still a tremendous stigma, which is often quite inhibiting," he said. "I do think it disincentivizes people from making their lives better."
This story first appeared on TODAY.com. More from TODAY
Copyright Today Digital Originals