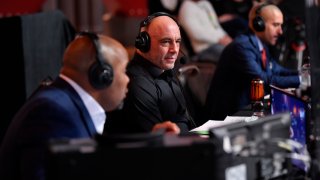 Podcast host Joe Rogan told his millions of followers Wednesday that he has COVID-19 and used ivermectin, a drug typically used on livestock that health experts have urged the public to avoid.
Rogan, host of the immensely popular Spotify podcast "The Joe Rogan Experience," posted a video to Instagram explaining that he tested positive for coronavirus following his return from a live show on Saturday. He said he had "fevers and sweats" and that he "threw the kitchen sink" at the illness.
His treatments included monoclonal antibodies and ivermectin, Rogan said. Ivermectin, which is not an anti-viral drug, is generally used to treat or prevent parasites in animals such as horses.