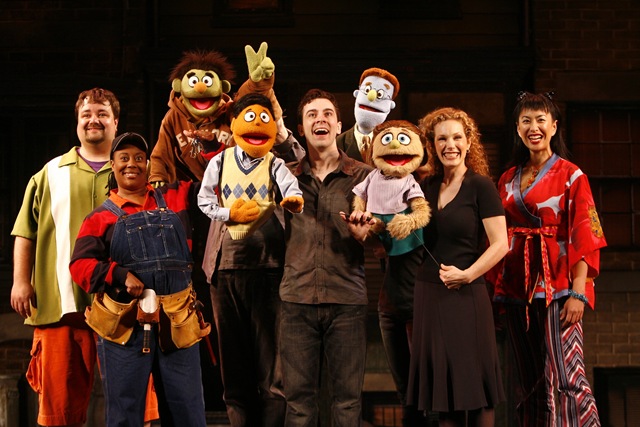 PUPPET PLAYERS: The hit Broadway musical "Avenue Q" is making a weekend stop at the Shubert Theater in New Haven. The Tony Award-winning musical features a cast of people and puppets trying to make it in NYC with big dreams, and not so big bank accounts. The hilarious show is filled with smart, risque writing. Tickets are $15-$68. There are matinee and evening shows throughout the weekend. Click here for times and more information.
OUT FOR BLOOD: Before there was "True Blood" and "Twilight," there was "Dracula." The classic horror story is being told on stage this weekend in Deep River. The Phoenix Theater Company is putting on the production at the Deep River Theater. There are shows all weekend. Click here for ticket info and show times.
--- Click here to watch the This Weekend video ---
NO VAMPIRES IN SIGHT: The unmistakable odor of garlic will be in the air in Bethlehem this weekend. The Garlic & Harvest Festival is on tap for its fifth year. There will be plenty of rides, games and live music. But of course, the pungent produce is the star of the show. Learn how to grow your own garlic, or just get some lessons in the best way to cook with it. And you can always head over to the Garlic Food Court for the a wide range of eats including cheeses and spreads to deep fried garlic and garlic ice cream. The festival is open from 10am-5pm Saturday and Sunday. It's just $6 for adults. We suggest you bring a mint or two.
FIRST FAMILY OF FOLK: It all started more than four decades ago. Woody Guthrie became one of the most influential folk songwriters of all time. It continued with his son Arlo, who became a folk icon in his own right in the '60s, thanks in part to "Alice's Restaurant" (trust us, take the 10 minutes to listen). Now, the family business is moving into the next generation. The Guthrie Family (Arlo, his four kids, his son-in-law and seven grandchildren) are all on tour together. You can catch all their old family classics and some new songs, when they hit UConn's Jorgensen Center for a pair of shows on Friday and Saturday. Tickets are $34, 38 and $45. Shows start at 8pm.
IT'S CHOWDA!: New England or Manhattan, corn or seafood, there's something for everyone's taste at Mystic Seaport's annual Chowderfest. And while you eat your way through the world of "chowda," you can explore everything that the Seaport has to offer. Chowderfest runs Saturday through Monday, from 11am-4pm.
GOING MEDIEVAL: Get your armor and your lances ready. It's time to step back in time for the 2009 Connecticut Renaissance Faire. The fair, at the Hebron Lions Fairgrounds, features storytelling, musicians, drama, jousting, games, food, theater and New England's largest Medieval marketplace. The festivities start Saturday, run through Monday and pick up again next weekend. Tickets are $16 and under. 10am-6pm.
OUTSIDE THE LINES: Former Yankee great Bernie Williams hung up his pinstripes a few years ago, but don't think that means he's just twiddling his thumbs. Bernie is using his retirement from baseball to embark on a successful career as a musician. A classically trained guitarist, Williams is taking his act (filled with his salsa, merengue and '80s rock influences) to the Ridgefield Playhouse Saturday. Tickets are $55-$75. 8pm.