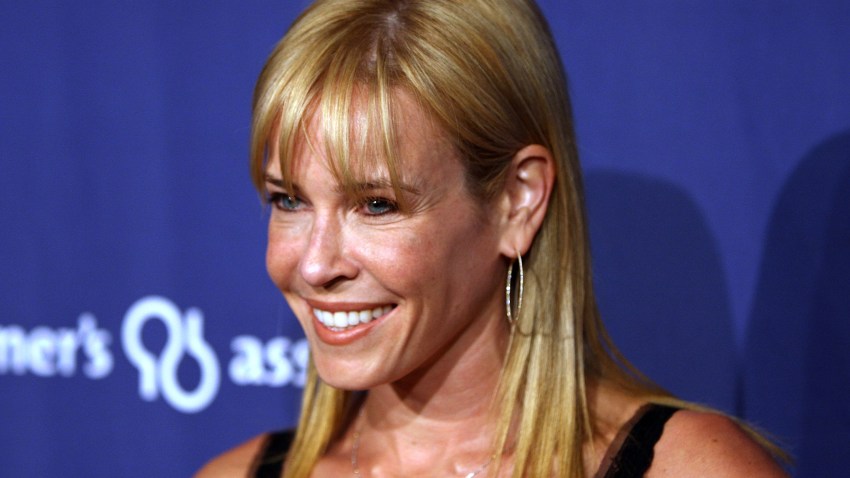 ROGER: Wilco, one of the most popular indie bands of all time, is back in Connecticut this weekend. Fans will get to enjoy "An Evening with Wilco" on Friday night at the Bushnell. Over the years, the band has continued to reinvent itself, while maintaining a connection to the fans and the critics. Tickets for Friday's show are $35. 8 p.m.
HARD TO HANDLER: She's a stand-up comedian, a television host and a best selling author. It's fair to say that Chelsea Handler has become one of the "Queens of Comedy. This weekend, she's a guest of our fair state. Chelsea Handler will perform on Friday night at Mohegan Sun Arena. Tickets are $50. Also this weekend, you can meet Chelsea (we're on a first name basis, but not really). On Friday afternoon before the show at Mohegan, she'll be signing copies of her latest book "Chelsea Chelsea Bang Bang" at R.J. Julia Booksellers in Madison. The book signing is at 3, and the show starts at 8 p.m.
COMEDY NIGHTS DONE RIGHT: Besides Chelsea Handler, there are plenty of laughs to be had this weekend in the state, so we thought we'd give you a few quick hitters to get your funny bone primed.
First off, there's Jim Gaffigan. From Hot Pockets to bacon to baseball, Gaffigan can make just about anything funny. He's playing at the Palace Theater in Stamford on Saturday night. Tickets are $39.75 to $49.75. Shows are 7 p.m. and 10 p.m.
Moving to the Warner Theatre in Torrington on Saturday, there's Dave Reilly and Father "Guido." Reilly is one of the fastest rising stars in the comedy world and has been compared to the likes of Seinfeld, Williams and Bruce. Tickets are $35-$55. 8 p.m.
Finally, make a stop at City Steam in Hartford on Friday or Saturday night for a triple header of har-de-har-hars. Greg Vaccarello, Dennis Ross and Joe Currie are bringing the funny at City Steam's Brew Ha Ha Comedy Club. The cover is $10-$15. Friday's show is 8 p.m, and there are shows at 7 and 10 p.m. on Saturday.
ROASTING: For decades, he's been one of the biggest names in music. And this weekend, the one-and-only Kenny Rogers (the Gambler himself) is bringing his act to the MGM Grand at Foxwoods. And he's not coming alone. Dolly Parton, Lionel Richie, Chris Isaak, Smokey Robinson and Wynonna Judd will all take the stage with Rogers, as he films a television tribute special called "Kenny Rogers: The First 50 Years," (check your local listings). Tickets for the filming are $100 to $225.
ODDITIES: Saturday night in Hartford brings us quite the unique evening experience. Real Art Ways is holding its annual Odd Ball party. The evening features a smörgåsbord of surprises. This year's inspirations include graffiti underground and carnival fun-houses. The Odd Ball will be filled to the brim with musical transformations, innovative eats and one-of-a-kind experiences. Costumes are encouraged, though entirely optional. $55.
BECAUSE WE LIKE TO SAY SALSA: Make your way to Storrs this weekend and the Jorgensen at UConn for a night filled with Latin flavor. Latin Fest 2010 will celebrate the traditional and trendy with plenty of music and dancing. From salsa, bachata, reggaeton and balada, Latin music sensations Tony Vega and Andy Andy will help get you on the dance floor. The event is sponsored by the Jorgensen and the Puerto Rican/Latin American Cultural Center. Semi-formal attire is required. Latino dinner fare and dessert is available for purchase as well. Tickets are $25-$35. 8 p.m.
CUBANSKI: Something in this final event just doesn't quite seem right. On Sunday night in Hartford, five-time Grammy-nominated Cuban composer and pianist Omar Sosa will perform. Sosa has his own unique style of Afro-Cuban jazz. You're with us so far right? Here's the kicker. Sosa is performing at the Polish National Home. We just don't get the connection, but it should make for an eventful evening. Save a pierogi for us! Tickets are $15. 8 p.m.