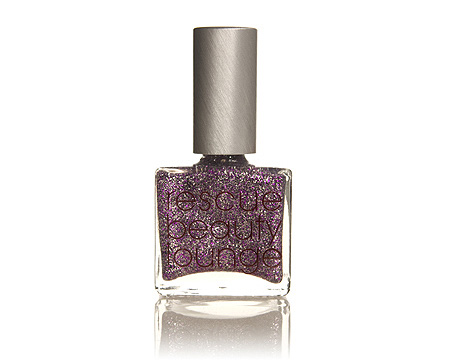 BLING IT: We heard something we thought was pretty rad a few days ago. Being the glitter addicts that we are, when we learned about a new nail process called Rockstar Nails that consisted of several thin layers of gel alternating with hefty shakes of glitter in the works, we were speed dialing our manicurists in a matter of seconds. Of course, they thought we were completely crazy (we're starting to think this is more of a West Coast process) and we were bummed.

Why? Because sparkly nails would have been so cool for New Years Eve. Duh.

Nevertheless, we've persevered and picked up a bottle of Frugalista Nail Polish from Rescue Beauty. The extra-large bottle contains our favorite highly concentrated iridescent glitter polish that dries to a blinding pizazz in the matter of minutes.

BUY IT: Order from Rescue Beauty Lounge online for $18 a bottle.
Psst... Have you heard of a Connecticut Salon or Spa that does Rockstar Nails? If so, Tweet us!