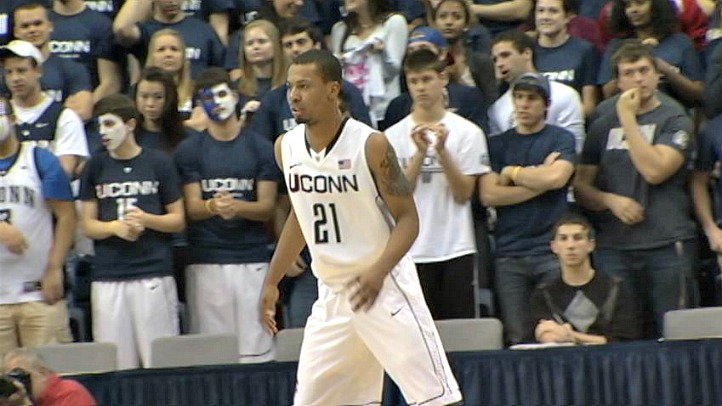 Omar Calhoun never wavered. When there were the annual questions about whether Jim Calhoun would retire, or after the NCAA slapped the Huskies with a 2013 tournament ban for low APRs, Calhoun remained committed to the program.

That commitment has paid off, too. Nearly through his freshman season, Calhoun has averaged 31 minutes, 11.5 points, 3.6 rebounds, 1.2 assists and a steal a game. And for the second time this season, Calhoun earned Big East Rookie of the Week honors, the latest coming after scored 15 and 16 against Syracuse and Villanova, respectively.

In the upset win over the sixth-ranked Orange, Calhoun hit several big three-pointers in the second half to maintain UConn's lead.

"I felt like early on I passed up a couple and penetrated," he said at the time. "Coach told me that I had space and I could knock them down. I was able to get my feet ready quick and shoot t quick because they're a long team and you have to be able to get your shot off quick against them."

Following the loss to Villanova, coach Kevin Ollie spoke about Calhoun.

"I like the way he is maturing," Ollie said via the Hartford Courant's Dom Amore, "the way he is taking coaching, taking what the coaching staff is telling him and taking it into games. He is grasping what we're giving him. We told him about the threes -- too many -- he needs to show the ball and get to the rim. That's what he is doing."

With the Huskies thin in the frontcourt following Enosch Wolf's suspension, Calhoun will need to continue step up his game.

"I'm definitely getting more comfortable with the speed of the game," he said. "I'm seeing everything. It feels like regular basketball for me, I can get to where I want on the floor. The game has slowed down for me, I'm seeing it, reading it. That comes from watching film, too, staying in the gym, kind of realizing things and seeing different things on the floor."

The Huskies have just six games remaining in the regular season, which means that, come March 9 against Providence, the 2013 campaign will officially end. Calhoun and his teammates hold out hope for a Big East regular-season title, but even if they come up short, Calhoun will be back in 2013-14. He'll be a year wiser and UConn will be sanction-free.