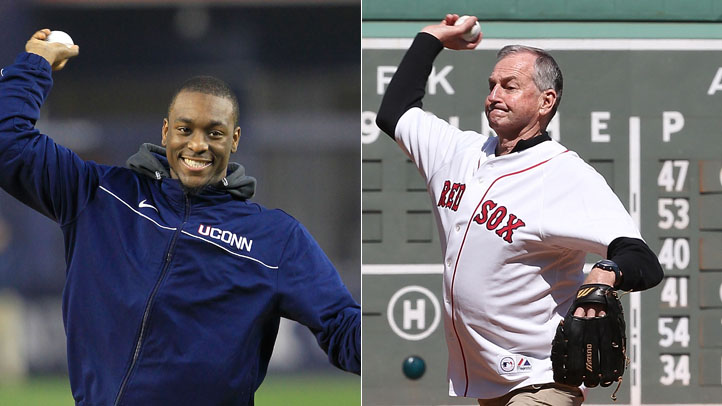 The UConn Huskies men's basketball team was in the Bronx on Wednesday night as guests of the New York Yankees. Kemba Walker even threw out the first pitch.
Despite the hospitality, Alex Oriakhi showed up wearing a Red Sox hat because he's "from Massachusetts" and "just wanted to represent." Even though, you know, the Red Sox have yet to show up for the 2011 season. They are currently 2-9, good for last place in the AL East, and 4.5 games behind the Orioles.

But Oriakhi isn't the only Sox fan associated with the men's basketball team. In fact, he's not even the biggest. That distinction goes to coach Jim Calhoun who was raised in Braintree, Massachusetts, played basketball at Lowell State (now UMass-Lowell) and then American International College in Springfield, and coached 17 years at Northeastern before coming to UConn in 1986.

Unlike this players, however, Calhoun didn't make an appearance at Yankees Stadium. I haven't yet seen an official reason for his absence although this tidbit from last Sunday's Hartford Courant makes it abundantly clear that Calhoun's Red Sox roots wouldn't let him show his face in the Bronx.
Calhoun said he hasn't decided if he will go to Yankee Stadium Wednesday when Walker, a Bronx native, throws out the first pitch. You may remember in 2004, Calhoun said he twice was called by the Yankees to throw the first pitch, but declined, saying he "couldn't step on that mound." The Yankees said they never called Calhoun.

"I'll talk to Brian Cashman, who I've gotten to be pretty friendly with," Calhoun said. "I'd love to see Kemba try to throw the first pitch.

"Kemba couldn't understand why I wasn't going to the Wooden Award [Andre LaFleur accompanied Walker for the ceremonies Friday night in Los Angeles, where Jimmer Fredette won]," Calhoun said. "I had to explain to him in Boston you're grown into Ted Williams … to all the guys I watched when I was a kid. Kemba's not really into baseball. He doesn't understand."
That's commitment to the hometown team right there.

Still, even Calhoun would have to appreciate Derek Jeter's assessment of Kemba Walker.
"He's got a bright future," Jeter said. "I appreciate athletes more for what they do away from the court or the field. It's not just how many points you score or home runs you hit or touchdowns you make, it's how you carry yourself, your demeanor."

Yep, that sounds like Kemba.