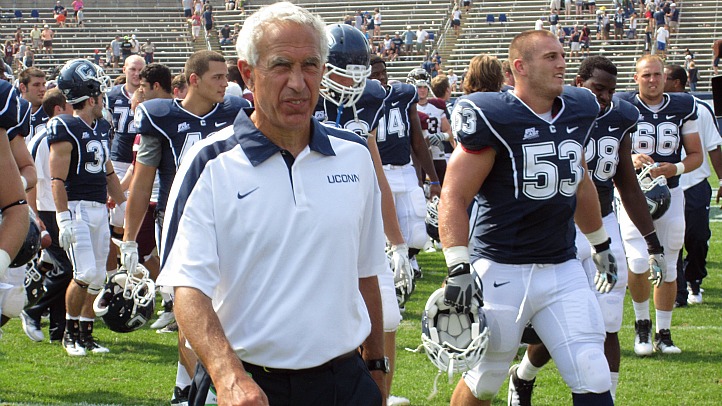 Even when the Huskies won the Big East in 2010 and faced Oklahoma in the Fiesta Bowl, there were very few expectations heading into the season. That's why it's odd to see this headline over at ESPN.com's Big East blog: "Big East Title Chances: Connecticut."

That doesn't mean it can't happen just that, based on history, it doesn't seem particularly likely. But that's where coach Paul Pasqualoni comes in. He won just five games in his inaugural season but he has a plan. It may be of the "pace wins the race" variety but that's better than no plan at all. But let's not get too far ahead of ourselves; ESPN Big East blogger Andrea Adelson mentioned the Huskies' conference title chances because its part of a series -- she's looking at every team in the Big East. Still, it's interesting to consider.

Three reasons (as identified by Adelson) that UConn could win the Big East:
Experienced defense. "UConn returns eight starters, including all three linebackers, who were also the team's three leading tacklers a year ago."
Quality skill players. There's RB Lyle McCombs, WRs Mike Smith and transfer Shakim Phillips, and WR Ryan Griffin.
QB play will be better. "Experience and depth at the position suggest a rise in production."
All three points are critically important to UConn's success and if we're ranking them: it's quarterbacks, then defense, followed by skill-position players. A year ago, we saw what an unsettled quarterback position can do to an offense. The Huskies' defense was at times great, but other times nearly invisible (especially the pass defense). That's not an indictment against the unit, just a reminder that there are a lot of good teams out there. Sometimes, when the defense struggles, the offense has to be able to pick up the slack. And in theory, now it can. Chandler Whitmer, the junior college transfer, won the job early in camp after a strong spring performance, and he -- along with freshman Casey Cochran -- gives UConn something they didn't have last season: depth.

But here's the thing: even with all this depth, with that be enough? It's a question Adelson poses in her post:
How Whitmer's success from Butler (Kan.) Community College translates to the Big East remains to be seen. McEntee, the new No. 2, struggled last season. Michael Nebrich, who played last season, transferred to Fordham. Cochran has a broken wrist and could redshirt. Scott McCummings is used primarily in the Wildcat and just returned to camp (personal reasons). In short, there are too many questions surrounding this unit to assume stability just yet.
Pasqualoni has stated previously that he wanted to name a starter early because it also allows him to groom the backup who, in his mind, will almost certainly see the field at some point. The hope has to be that McEntee, after a year in George DeLeone's system, will be a much better player, even if means playing behind Whitmer. Adelson also mentions as concerns the lack of depth along the offensive line and the arduous task of finding Dave Teggart's replacement in the kicking game. Still, despite all the questions, this UConn team should be much better than the unit that went 5-7 a year ago.