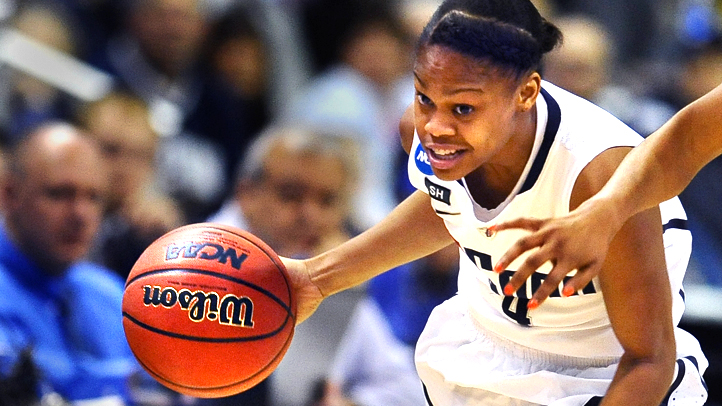 The UConn women's basketball team is in New Orleans, hoping to bring home their eighth national championship trophy and the state of Connecticut is cheering them on.
Gov. Dannel Malloy has proclaimed today "Husky Day" in the state of Connecticut and he is asking residents to show Husky pride by flying a UConn flag outside your home, putting up UConn signs or wearing blue and white or UConn gear.
"(O)nce again the University of Connecticut has instilled pride and excitement into the hearts and minds of loyal Husky fans throughout the state as the UConn Woman's Basketball team has advanced to the 2013 NCAA championship game …," the proclamation says, in part.
UConn and Louisville will play at 8:30 p.m. Eastern time tonight and Malloy has placed a friendly wager with Kentucky Governor Steve Beshear.
Malloy bet a basket of Connecticut Grown products against Governor Beshear's Kentucky country ham that the UConn women will emerge victorious over the Lady Cardinals.
"Governor Beshear's Lady Cardinals have been playing impressively, but they are no match for the UConn women and Geno," Malloy said in a statement. "I'll be cheering on the UConn Huskies, and soon thereafter I'll be enjoying another delicious Kentucky ham. Our women's team is tremendous, and the whole state is behind them for the win tomorrow night."
Beshear thinks his team can beat UConn, which has made six straight trips to the Final Four.
"No one is playing better than the Lady Cardinals. They've already taken out the nation's number one team and defending national champion, Baylor, then perennial power Tennessee, and held off California to reach the championship game," Governor Beshear said. "These women are all heart, and when you combine their talent and drive with Coach Jeff Walz's game plan, I have no doubt they'll knock out UConn in the title game."