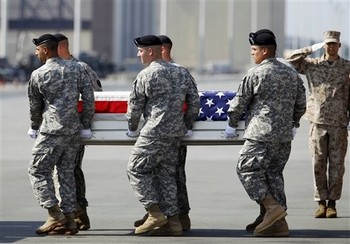 Before he left for Iraq, U.S. Army Pvt. 1st Class Gebrah Noonan put up four flags outside his Watertown home.
Now the community is mourning the loss of the 26-year-old 2002 graduate of Watertown High School.
Family and friends described Noonan as a fun loving person who loved the Yankees. They say he would stand up for anyone.
His loved ones say he took pride wearing the uniform.
"He used his influence for good and really looked out for people," said his sister Shemmy Noonan.
Pfc. Noonan died Thursday in a non-combat incident while in Fallujah. His body arrived back in the United States this weekend.
Since learning of his death, flags across the town are were lowered to half-staff.
"It is very sad," said Richard DiFederico, VFW State Commander. "There's no coming back from it and what his family is going through, unless it happens to you it's hard to understand."
The town manager says this is the first soldier from Watertown who has died since both the Iraq and Afghanistan wars began.
"For a war that started out so personally for so many of us and now to have it right here and taken home to Watertown is very tragic," said town manager Chuck Frigon.
While the circumstances surrounding his death remain under investigation, family and friends say they want people to remember him for how he lived his life.
Gov. M. Jodi Rell, ordered flags be lowered statewide.
"All of us are diminished by the death of this patriotic young man, who gave his life in the service of his country and in a mission to help others, yet all of us are the better because of his devoted service."
The family said they're grateful and overwhelmed by the support they've already received. Funeral arrangements and a possible memorial here in town are still being discussed.