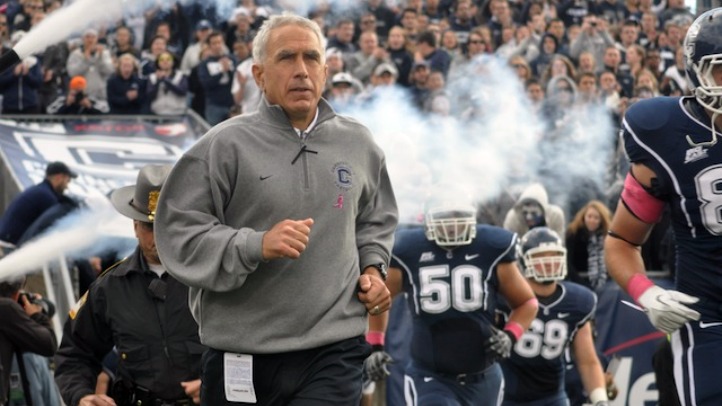 We'll have two more years of the BCS and then it's a four-team playoff to determine the national champion. Which means changes to how we're used to consuming college football in December and January, specifically, a bowl system that wasn't always fair but one with which we'd grown accustomed. Ahead of the inevitable changes, last week, ESPN.com Big East blogger Andrea Adelson went through the best and worst BCS moments in Big East history.

At the top of the list? The Huskies' appearance in the 2011 Fiesta Bowl opposite Oklahoma St. Adelson explains:

"2011 Fiesta Bowl: No. 7 Oklahoma 48, UConn 20. There is no question this was the biggest mismatch of the BCS era. Oklahoma went into the game with an 11-2 mark; UConn went in at 8-4. The matchup, consequently, began a debate about whether the Big East should really have automatic entry into the BCS. None of the blame should have been directed at the Huskies, who pulled off several close finishes to make it to their first BCS game. But the truth is they were not in the same ballpark as the Sooners, who had a 34-10 lead early in the third quarter. UConn never scored an offensive touchdown."

Not so much a scathing indictment against the Huskies as a commentary on the system in place to reward teams for winning their conference. That said, in the annals of the Big East, we're not convinced that this was one of the two lowest points (Adelson cites the 2010 Sugar Bowl between Florida and Cincinnati as the other). It's not clear that UConn's Fiesta Bowl appearance helped recruiting because then-coach Randy Edsall headed straight to the University of Maryland to take over there. In fact, if we're talking about "worst moments," Edsall deserves a name-check. He bolted from UConn to College Park where he promptly led the Terps to … two wins. It gets worse: more than two dozen players have left the program since his arrival.

If you're an optimist, the Fiesta Bowl could be the best thing to happen to the Huskies' football team. It allowed the school to hire Paul Pasqualoni, who won just five games in Year 1, but appears to have a plan for the future. And given the recruiting class (particularly at quarterback) and a returning defense that should be among the best in the conference, it's reasonable to think that UConn will have a better year than Maryland in 2013. Just like 2012.