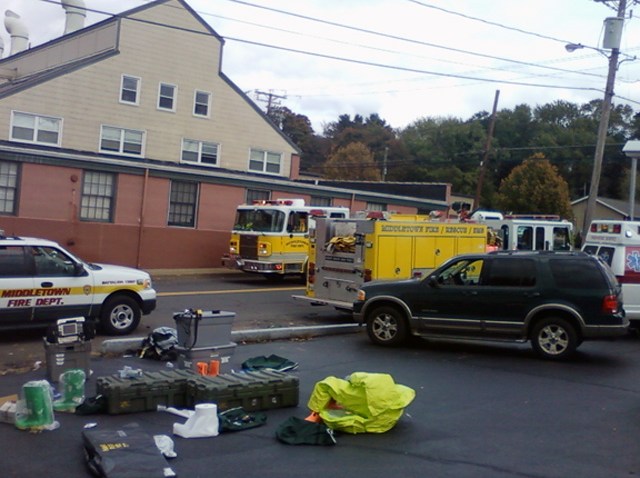 About 150 to 200 people were forced out of the Wilcox Apartments at 309 South Main St. in Middletown after a chemical caused a vapor cloud outside the building on Thursday afternoon.
As residents were evacuated, the fire alarm and sprinklers began to go off. Residents were worried about their possessions, but fire officials said, the water from the sprinklers was contained to the building's sprinkler room.
The tenants were kept out of the building for about nine hours on Thursday and Woodrow Wilson Middle School was the temporary shelter during the wait.
Emergency crews responded after the complex hired people to clean debris on the property and they found a large bucket filled with clear liquid, tried to retreive it and the bucket broke, officials from the state Department of Environmental Management said. Some of the liquid spilled into the brook, which leads to a pond, and it reacted with the water, causing the cloud.
Three employees were taken to a hospital for an evaluation. The apartments were evacuated as a precaution and the DEP and fire departments are investigating what happened. The DEP will send a sample of the chemical to a laboratory to have it tested.
Tenants were allowed back into the Wilcox Apartments around 8:30 p.m. after crews finished cleaning up the spill.
Follow us on Twitter @NBCConnecticut, on Facebook, and sign up for breaking news SMS alerts on your phone by texting "CTBREAKING" to 622669.