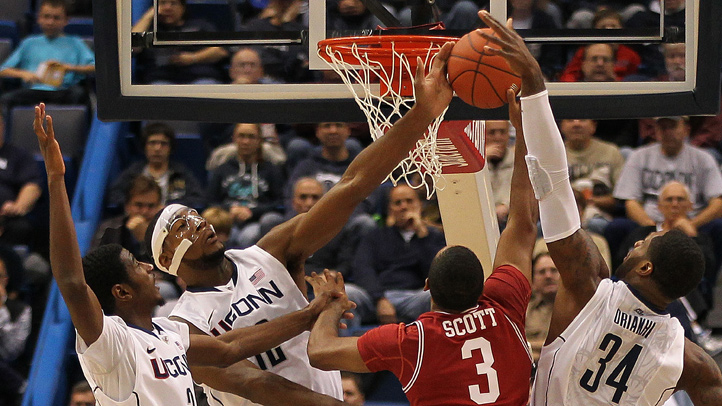 It might have been a Big East game, the second such get-together without Jim Calhoun, but the Huskies had little trouble with St. John's, a young team still searching for an identity. By the time it was over, UConn, the No. 9 team in the country, had an 83-69 win, to improve to 12-1.

The victory officially goes on Calhoun's record, but interim coach George Blaney is 2-0 while Calhoun serves a three-game suspension for recruiting violations. It also provided the Huskies with several opportunities to work out the kinks as they get into the meat of their conference schedule.

Sophomore Neils Giffey, who has seen his playing time dwindle this season with the addition of DeAndre Daniels and the three-guard offense featuring Ryan Boatright, Shabazz Napier and Jeremy Lamb, was on the floor for 14 minutes against St. John's -- more than five minutes over his season average -- and he scored seven points including two three-pointers.

"I would never complain about minutes, or talk to the coach about minutes," said Giffey, according to the Hartford Courant. "It's not me. If they think I deserve it, then I'm happy."

Credit to Giffey, who hails from Berlin, Germany, for accepting his role even if he doesn't embrace it. Not everyone can be a star; great teams need role players, too; a year ago, Giffey and Tyler Olander were those guys. Olander's role has grown this season, even with the addition of Andre Drummond. But he's still tasked with doing the dirty work -- setting picks, rebounding and battling underneath the basket.

Drummond, meanwhile, has had an up and down start to his college career. But that's not unexpected, even for one of the most highly recruiting high school players. He's played well recently, and now he's turning his attention to shoring up his free-throw shooting.

Details via the Courant's Jeff Jacobs:
Baby steps come before NBA steps, of course, and on the final day of 2011, Drummond hit better than 50 percent of his free throws for the first time in his college career. Granted, it's a tiny sampling, but 2-for-3 is 2-for-3 and for a guy who had hit only 12 of his first 36 foul shots, including a painful 1-for-8 against Maine, it is progress.

Associate coach George Blaney, filling in for Jim Calhoun during his three-game NCAA suspension, said Drummond's first attempt was particularly fluid. OK, he shot an airball on his third attempt, leading him to burst into laughter running back on defense.
"I'm mean, I'm not going to get mad about it," Drummond told Jacobs. "I can't get frustrated. As soon as I get back to campus today, I'm going right back into the gym and shoot more free throws."

And that's exactly the right way to think about it. It's too early in the season, there's too much to be decided, and the Huskies have too many playmakers to get hung up on one shortcoming that is more mental than physical.

For now, UConn is 12-1, 2-0 in the conference, and face Seton Hall Tuesday. And then, four days later, Calhoun returns to the bench when the team plays Rutgers.