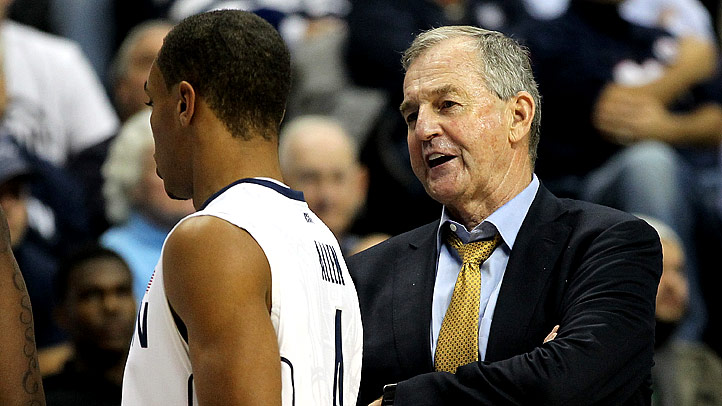 The concern heading into Sunday's game against Holy Cross was that the Huskies would be distracted by exams and show signs of rust from the 10-day layoff. Instead, ninth-ranked UConn was efficient against the Crusaders and won going away, 77-40.

Freshman Andre Drummond set the pace, scoring a career high 24 points and grabbing eight rebounds as the Huskies extended their home winning streak to 40 games against non-conference opponents. It's not quite 91 in a row but it'll do.

Junior center Alex Oriakhi, who has battled inconsistency this season, added 15 points. And the nation's best backcourt, Jeremy Lamb and Shabazz Napier, combined for just 13 points (10 from Lamb) but also contributed 15 assists (13 from Napier).

But we already know what Lamb and Napier can do; it was Drummond who provided a glimpse of just how good he can be in the paint, something the Huskies will need when conference play commences on Dec. 28 when the Huskies travel to Tampa to face Central Florida.

"Someone asked me how much he's improved thus far," coach Jim Calhoun said. "About 100 percent, and I think he's got about another thousand to go. He's got talent….

"When we get him the ball in those positions, and he's working hard on getting there ... he kiddingly said to me, when I got on him Friday about not playing as well, and he looked at me and said 'Coach, I'm saving it for Sunday,'" Calhoun continued. " I told him, 'We don't save anything around here. We get better on Friday to be better on Sunday.' Quite frankly, he was a lot better on Sunday than he was on Friday. .... He can be a difference-maker, and he going to have to try to do that against bigger, stronger people. He's had some steps, but this is the biggest step he's made."

Holy Cross coach Milan Brown, perhaps restating the obvious, called Drummond "big and athletic," adding that "He made a couple of jumpshots and post moves today that we definitely weren't expecting."

As for the Huskies as a whole, Brown noted that "They can strike so quickly. One thing I told our guys before the game: When you make a mistake they can make you pay every time. Every time we didn't make our offense run right, they made us pay. … It looked like the break did them a lot of good, and didn't do us much good. Finals week was much better for them."

The Huskies face Fairfield on Thursday before kicking off the Big East schedule.