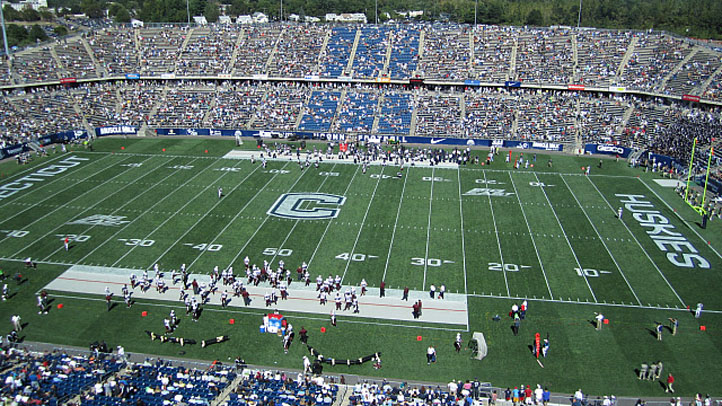 For as heralded as the UConn defense is (and we should know -- we've written about it weekly since the spring), it occasionally struggles with inconsistency. That's the case with every defense that has ever taken the field. Often the only difference between winning and losing comes down to keeping the opponent from exploiting your weaknesses while you try to do exactly that in return.

For the Huskies to have success this season, the defense will have to play near-flawless football, at least while the offense finds an identity (and, while they're at it, a starting quarterback). We've previously highlighted cornerback Blidi Wreh-Wilson and how he has emerged as one of the Huskies' best defenders. We've also talked more generally about this unit led by defensive coordinator Don Brown and how his attacking style can basically be described as "light your hair on fire and go."

But playing defense is more than just pyrotechnics and running full speed into opposing players. Sometimes consistency, from one play to the next, is just as important. And that's where the Huskies' safeties come in. Last season, the secondary played a prominent role in Rutgers freshman quarterback Chas Dodd throwing for 325 yards in a Big East match-up the Huskies would lose, dropping them to 3-3 midway through their 2010 schedule.

"The mental focus wasn't there," safety Jerome Junior told the Hartford Courant's Desmond Conner last week. "A lot of plays weren't getting finished; guys weren't running to the ball. It was kind of a mess. The plays were right there in front of us but we just kept making little mistakes. We had to tighten up. You have to make sure you're on your marks; corners have to make sure everything is perfect. You have to have respect for opponents. I think that's where some mistakes came in that game."

Conner uses the Rutgers game to illustrate a larger point about this defense: they learned from the loss, made adjustments and that had a lot to do with UConn reeling off five straight conference wins on the way to a BCS Bowl bid.

And this season, the defense could be even better, in no small part because Brown is now the coordinator.

"That was a completely different defense back then," senior Harris Agbor said. "Right now we're in a defense that me and Jerome are excited to play in. I have different responsibilities as a free safety. I'm given a lot of responsibility with this defense and I take pride in that. It suits both of us.

"It allows me to challenge slot receivers. I'll have a chance to be down in coverage, just coming down in the box and making some plays at the line of scrimmage as well. With [former head coach Randy] Edsall … in some of his packages we weren't allowed to do some of the things Coach Brown is letting us do. As safeties, there's a lot more trust now. A lot more. He really motivates us and allows us to get down there and challenge receivers a lot."

It makes sense. Give the battle-tested guys (the defense) more responsibility while you bring along the newcomers (the offense) slowly. And if all goes well, it will all come together during the season.