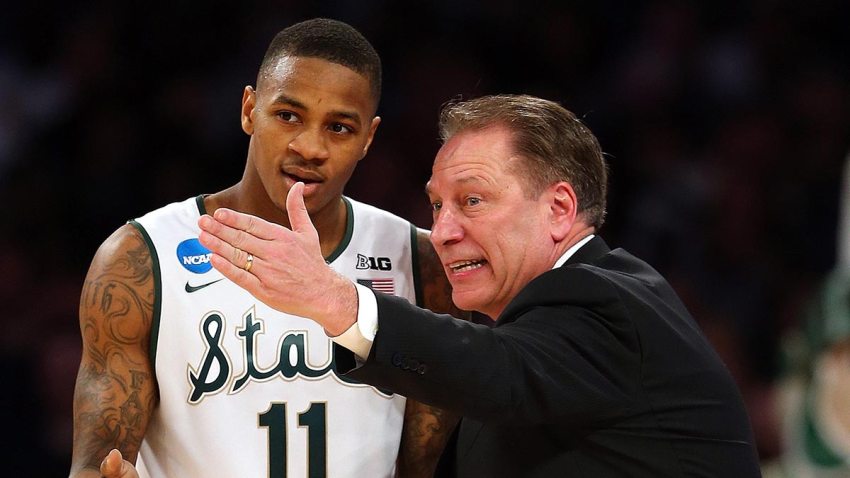 During the middle third of Sunday's Elite 8 matchup between No. 3 Michigan St. and No. 7 UConn -- those 20 minutes that bookended halftime -- it looked as if the Spartans would be headed for the Final Four. Instead, the Huskies settled down while Shabazz Napier got fired up, and ratcheted up the defensive pressure that stymied what Michigan St. wanted to do.

"We looked like we were walking in quicksand there for a little while," Michigan State coach Tom Izzo said after the 60-54 loss (via the Hartford Courant).

The Spartans shot 39 percent from the field, and their sloppy play during the game's first 10 minutes saw the Huskies open up a 10-point lead.

"In the first half, 12 of their 21 points were off turnovers or second shots, and that doesn't happen to us very often," Izzo said. "We didn't bring our 'A' game today."

But Michigan St. rallied, controlling the game leading into the break and for the first 10 minutes of the second half. Then Napier & Co. happened and the Spartans weren't able to stop them.

"It's tough," said MSU's Gary Harris, who scored 22 points, "especially a game like this, those turnovers definitely cost us."

With less than a minute to go and the game all but decided, Izzo used a timeout. And it wasn't because he thought there was an outside chance at victory.

"Sometimes you've got to pay the price of the process, and sometimes -- the reason I called timeout with six seconds left, it wasn't so that the UConn fans could really enjoy it a little longer," Izzo said. "I just told our underclassmen that we had a couple stretches where we didn't bring it. I came out of the huddle and I was shaking my head, like I haven't seen this before. Sometimes that happens with pressure. Sometimes it happens with fatigue, and I just wanted our team to capture the moment and learn from it, so next year we can be better at what we do."