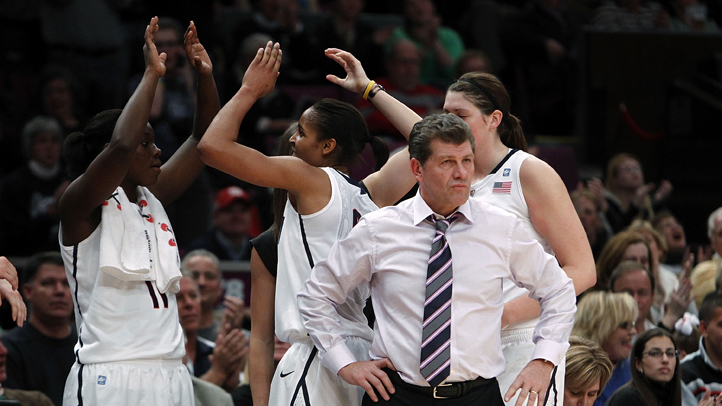 Women's college basketball has grown in popularity over the last 20 years, and some of that has to do with the program Geno Auriemma built at UConn. And while the list of big-time programs grows, there remain only a handful of teams with a chance to win the national championship every season.

In April, that list expanded to include Texas A&M, a program that has had a lot of success under coach Gary Blair, making six NCAA Tourney appearances in his eight years in College Station. But it wasn't until 2011 that the Aggies finally won a national title. And for their efforts, they will get to face the Huskies next season as part of a home-and-home series.

The first meeting will come in Storrs on Dec. 6 as part of the Jimmy V Classic, and they will meet again in 2012-2013 on the Aggies' home court. It will be the first meeting between the two teams, although if UConn had gotten past Notre Dame in the Final Four this month they would have faced Texas A&M in the finals.

Auriemma has a history of scheduling tough opponents. Last season, the Huskies played Baylor, a game in which then-freshman center Stefanie Dolson appeared overmatched. That wasn't totally unexpected; Dolson was going up against Brittney Griner, one of the best centers in the country. But the experience made Dolson a better, more confident player down the stretch, when the Huskies needed her production because Maya Moore faced constant double-teams or Tiffany Hayes couldn't find her jumper.
UConn also traveled to Palo Alto, Calif. to face Stanford in 2010. They were blown out 71-59 -- the team's only regular-season loss -- but it no doubt toughened them up for their impending conference schedule.

Historically, creme puffs have been a part of the early-season schedule for top programs. The thinking: no need to face top-flight competition early when you will eventually have to face them in conference and tournament play. Clearly, Auriemma disagrees; the Huskies annually play a tough schedule, and annually end up as one of the best teams in the country.

According to the Hartford Courant's John Altavilla, UConn and Texas A&M had originally discussed playing in St. Thomas, Virgin Islands in November, but the Huskies opted to tour Europe this summer instead.