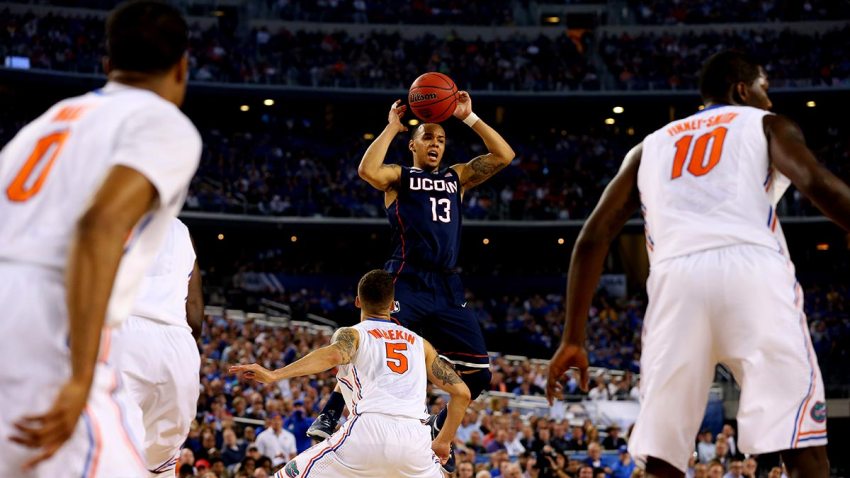 A year ago, Kevin Ollie and the Huskies were banned from postseason play because of low academic progress scores. Like the rest of us, they were stuck on the couch, forced to be spectators, biding their time.

Except that point guard Shabazz Napier, who was a freshman when the 2010-11 Huskies made their improbable 11-0 run through the Big East and NCAA Tournaments that culminated in a national title, refused to watch NCAA Tourney action a season ago.

"To be honest, I didn't watch one game," Napier said last week. "I was more into watching 'River Monsters,' stuff like that. I didn't want to watch because I felt like if I did, I would be aggravated or annoyed with it."

Those sanctions extended beyond missed tournament opportunities; after the 2011-12 season, five players left the program, either for the NBA or to transfer to other schools: Jeremy Lamb and Andre Drummond entered the NBA Draft, while Roscoe Smith and Brian Orakpo left for UNLV and Missouri. Then, shortly before the start of the 2012-13 season, Hall of Fame coach Jim Calhoun retired. Ollie was hired as the interim coach, had immediate success and was eventually -- and rightly -- given a long-term contract.

And all he's done in two seasons is win 51 games -- more than any other coach in school history -- and made the Huskies, a forgotten team 12 months ago, one of the most amazing stories of the season.

Meanwhile, Napier has grown into the unquestioned floor leader, the guy teammates look to when they need a score, a steal, an assist, a rebound. Kemba Walker perfected the role back in 2010-11, when UConn entered the conference tournament as a good, but not great team, that was expected to win a few games before graciously giving way to the heavyweights. Didn't happen then and it hasn't happened yet for Ollie's bunch.

Of course, Ollie's one of the most optimistic people you'll ever meet. Unlike Calhoun, whose unvarnished opinion was perpetually on display for everybody to take in, Ollie took a different motivational approach.

Back in late-December, early-January, the Huskies were in Texas for the start of the AAC schedule. They suffered back-to-back losses to Houston and SMU, but before heading back to Storrs, Ollie took his team to AT&T Stadium, the site of the 2014 Final Four, to give them a first-hand look what could be their future. In retrospect, it certainly seems ambitious, but given how the last two weeks have played out, maybe Ollie knew what he was doing.

Just like in early March, when the coach was talking about a national title, even before the Huskies had played their final regular-season game. During the last home game at Gampel Pavilion, the coach told the crowd, "I'm planning to come back here in April and raise a banner."

"I have confidence in my guys," the coach continued. "I have confidence we're going to win every game. If you don't believe it, you're never going to have anything. I came here as a coach, I believed in myself, I believed in my coaching staff. No matter what the situation was. We've got a chance, like every other team. Like 68 other teams, we've got a chance, so why not think it?"

At the time it sounded like coach-speak -- he's supposed to say that, it's part of the job description -- but Ollie wasn't just blowing smoke. He meant it, something the players were well aware of.

Senior Niels Giffey, also a member of the 2010-11 championship team, said of his coach, "[He] expects a lot of us. That's the type of guy he is. He wants to set that standard for himself and for the team. He's not satisfied with where we are now, he wants to get back up there. That's why I think he's the only guy who can step into Coach Calhoun's footsteps."

So far, so good on that front. Calhoun, who was at the helm for a quarter-century, led the Huskies to three championships and now Ollie is on the doorstep, just two years into the job. But he wouldn't be here if not for Calhoun's foresight; he made sure Ollie was well-positioned to replace him when he finally retired and the move, while reportedly not popular with the university, turned out to be the right move.
Last week, in the moments after the Huskies defeated Michigan State to make it to the Final 4, Calhoun and Ollie could be seen embracing on the court admit celebrating players.

"He just said, 'I'm proud of you, keep doing what you're doing, keep battling and thinking about the team,' " Ollie said of the conversation they shared. "I was trying to hold back tears. I just said, 'Thank you for believing in me,' because a lot people didn't. There were a lot of doubters."

Good luck finding those doubters now. And not only is this great news for UConn's basketball program (even if they lose DeAndre Daniels to the NBA in a few months, the incoming class -- including transfer Rodney Purvis -- is stout, and making it to the championship game certainly won't hurt Ollie's future recruiting efforts), but also the fledgling American Athletic Conference, a hodgepodge of schools brought together because no one else wanted them.

Two final fun facts: The Huskies are 2-0 in the state of Texas in the NCAA championship game. In 2004, both the men's and women's teams were in the finals — and both emerged victories. It's the only time that's ever happened.
Until now, perhaps. The men's team brought home the national title by topping Kentucky 60-54 Monday night, paving the way for the women today.