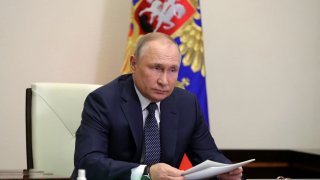 This has been CNBC's live blog covering Thursday's updates on the war in Ukraine. [Follow the latest updates here.]
Russian forces are continuing to hold their positions and carry out shelling strikes around Kyiv, according to British intelligence, despite promises from Moscow this week to scale back its military activity near the Ukrainian capital.
The head of the U.K.'s intelligence and security agency said in a speech Thursday that Russian President Vladimir Putin has "massively misjudged" the situation in Ukraine, and that the Russian leader's advisors were afraid to tell him the truth about what was happening on the ground.
Meanwhile, Ukrainian officials said Thursday that Russia had agreed to allow a humanitarian corridor to open in the besieged city of Mariupol, which has been largely destroyed by Russian shelling and is facing a severe humanitarian crisis.
Anonymous targets Western companies still doing business in Russia
Anonymous, the "hacktivist" collective, has a new target in its "cyber war" against Russia. This time, it's Western companies that are still doing business there.
A post on March 21 from a Twitter account named @YourAnonTV stated: "We call on all companies that continue to operate in Russia by paying taxes to the budget of the Kremlin's criminal regime: Pull out of Russia!"
The tweet gave companies 48 hours to comply. The threat also included a photo with logos of some 40 companies, including household names such as Burger King, Subway and General Mills. A second batch of target companies was published on March 24, which included Emirates airline, the French gardening retailer Leroy Merlin and the essential oil company Young Living.
However, some companies that were mentioned refuted Anonymous' claims.
For example, tire firm Bridgestone and Dunkin' said before they were targeted by Anonymous, they had already publicly announced that they were pulling business from Russia. Three targeted oil field service companies — Halliburton, Baker Hughes and Schlumberger — had also issued announcements previously. Others soon announced they were cutting ties with Russia, including the Canadian oilfield service company Calfrac Well Services and the sanitary product maker Geberit Group
Even so, a quick exit may be complicated for franchises. That's the position that targeted companies like Burger King, Subway and Reebok's owner Authentic Brands Group, said they are in.
— Goh Chiew Tong, Monica Buchanan Pitrelli
Ukraine regains control of some villages near Chernihiv, Britain says
Ukrainian forces have retaken two villages along one of the main supply routes between Kyiv and the northern city of Chernihiv, according to the U.K. Ministry of Defence.
The villages are Sloboda and Lukashivka, which are south of Chernihiv, the ministry said in its daily update.
"Ukraine has also continued to make successful but limited counter attacks to the east and north east of Kyiv," the defense ministry said.
"Both Chernihiv and Kyiv have been subjected to continued air and missile strikes despite Russian claims of reducing activity in these areas," it added.
Military developments are difficult to confirm as the situation on the ground in Ukraine changes constantly.
— Abigail Ng
Reuters reports Japan's decision to keep using Russian gas was made weeks ago
Japan's prime minister, Fumio Kishida, decided weeks ago that he would not abandon a Russian gas project, Reuters reported, citing three sources.
The report said Kishida in early March told top officials that he wouldn't risk Japan's energy security, and would stay in the Sakhalin-2 liquefied natural gas project.
On Thursday, the prime minister told parliament that "it is not our policy to withdraw" from that Russian LNG project.
Japan has targeted Russian banks and oligarchs with sanctions, but doesn't have much leeway to cut off gas from Russia. The Asian country became more reliant on Russian energy after it shut down nuclear reactors following the 2011 Fukushima disaster.
— Abigail Ng
Americans are being targeted and detained in Russia, U.S. warns
U.S. citizens are being targeted and detained by Russian forces in the former Soviet Union and in Ukraine, the U.S. State Department warned, urging all Americans to leave both countries.
"Russian government security officials in both Russia and in Ukraine may be singling out U.S. citizens based on their nationality," State Department spokesman Ned Price reiterated. "All US citizens in Russia and Ukraine should depart immediately.All US citizens in Russia and Ukraine should depart immediately."
U.S. officials are still working to free WNBA star Brittney Griner, who plays for Russian basketball club UMMC Ekaterinburg, after Russian authorities arrested the two-time Olympic gold medalist at a Moscow-area airport last month and accused her of transporting drugs.
— Dawn Kopecki
U.S. officials circle globe to keep pressure on Putin as ruble rises
Senior U.S. officials fanned out around the world this week to press other leaders to join or continue to pressure on Moscow as the war in Ukraine enters its fifth week, and the initial economic shock to Russia seems to be ebbing.
Deputy Treasury Secretary Wally Adeyemo met with senior officials in London, Brussels and Paris, and will finish the week in Berlin; the deputy national security adviser for international economics, Daleep Singh, pressed Indian officials in New Delhi, and Secretary of State Antony Blinken discussed the Ukraine war with Abu Dhabi Crown Prince Sheikh Mohammed bin Zayed al-Nahyan in Morocco.
The effort comes as the initial impact of unexpectedly tough sanctions on Russian banks, oligarchs and companies begins to wear off somewhat, and the United States considers its next economic steps to isolate Russian President Vladimir Putin.
— Reuters
U.S. readies $800 million weapons package for Ukraine
The U.S. military is quickly working to get the bulk of more than $1.1 billion in military assistance delivered to Ukraine in the next two weeks, downplaying reports that shipments have slowed, said Pentagon spokesman John Kirby.
Kirby said that the $350 million arms package that was pledged on March 14 arrived in Ukraine and the colossal $800 million weapons package that was announced by President Joe Biden on March 16 is set to arrive within the next 2 weeks. Kirby declined to elaborate on how the shipments were getting to Ukrainian forces citing operational security concerns.
"The Ukrainians want this stuff and they want it like yesterday. We understand that we know time is not on their side, we don't think it's on our side either," Kirby said.
— Amanda Macias
Russians give Chornobyl nuclear plant back to Ukraine, IAEA says
Russian troops that took over the Chornobyl nuclear power plant last month have transferred control back to Ukraine, the International Atomic Energy Agency said, citing information from Kyiv.
Multiple convoys of Russian troops in the area have also moved north toward Kremlin-allied Belarus, Ukraine told the IAEA.
The Russian forces, which had held the nuclear facility since Feb. 24, returned control of the Chornobyl plant "in writing" to Ukrainian personnel, the agency said in a press release.
The IAEA added that it "has not been able to confirm reports of Russian forces receiving high doses of radiation while being in the Chornobyl Exclusion Zone."
— Kevin Breuninger
Biden says Putin may have put military advisors under house arrest
President Joe Biden said Russian President Vladimir Putin "seems to be self-isolating" from his own military advisors as Russia's invasion of Ukraine falters.
"There's some indication that he has fired or put under house arrest some of his advisers," Biden added, though he cautioned, "I don't want to put too much stock in that at this time because we don't have hard evidence."
The president's comments followed a decision this week by the White House to declassify U.S. intelligence indicating that Putin feels he has been misled by his military leaders, who told him that Ukrainians would greet invading Russian soldiers as "liberators" and predicted Kyiv would fall in a matter of days.
Biden's suggestion that Putin has imprisoned some of his advisers lines up with reports by several prominent experts on the opaque Kremlin bureaucracy.
Specifically, the leader of the Russian foreign intelligence unit responsible for Ukraine, Colonel-General Sergei Beseda, and his deputy, Anatoly Bolyukh have reportedly been placed under house arrest.
This kind of information is notoriously difficult to confirm, however, given the strict controls on what media can report in Russia and the Kremlin's refusal to answer questions about Putin's inner circle.
— Christina Wilkie
Ukrainian soliders help a displaced family cross a river outside Kyiv
A Ukrainian soldier carries a baby as he helps a displaced family to cross a river on the outskirts of Kyiv.
— Getty Images
Russian airstrikes over Ukraine double despite de-escalation claim, U.S. Defense official says
Russian airstrikes over Ukraine have doubled in the past 24 hours, despite the Kremlin's claim that it would reduce military operations in the country, a senior U.S. Defense official said.
The official, who spoke on the condition of anonymity in order to share new Pentagon reporting, said Russian jets flew 300 strike missions over Ukraine yesterday.
"We certainly haven't seen any indication that any of these troops are going back home or that they're being taken away from the fight forever. What we continue to believe is that these troops will be refit and put back into Ukraine," the official said, adding that less than 20% of Russian troops near Kyiv have moved elsewhere in the country.
The rise in strikes comes as Russian forces on the ground face a slew of logistical challenges.
"We have continued to see unit cohesion issues, command and control problems, problems with faulty leadership and certainly we have continued to see again anecdotal evidence of poor morale and poor performance by troops on the battlefield," the official said.
— Amanda Macias
U.K., allies agree to send more military aid to Ukraine
Britain and its allies have agreed to send more lethal weapons to Ukraine to help defend it against Russia's invasion, British defense minister Ben Wallace said.
"There'll be more lethal aid going into Ukraine as a result of today. A number of countries have come forward either with new ideas or indeed more pledges of money," Wallace told reporters after hosting over 30 international partners at a conference.
He said the lethal aid included longer range artillery, ammunition, and more anti-aircraft weapons.
— Reuters
British army donates thousands of helmets to Ukraine military
British soldiers sorted and packed some of the surplus 84,000 ballistic helmets being shipped to armed forces and emergency workers in Ukraine from Donnington, England.
The British soldiers are stripping up to 12,000 helmets a day of the U.K. insignia and webbing and packing batches of 100 helmets into cardboard boxes ready for onward transport to the Ukrainian border.
— Getty Images
U.S. to release 1 million barrels of oil per day from reserves to counter 'Putin's price hike'
The U.S. will release 1 million barrels of oil per day from strategic reserves to help cut gas prices that have soared since Russia invaded Ukraine more than a month ago, the White House announced.
A fact sheet released by the Biden administration showed that the president plans to tap the nation's Strategic Petroleum Reserve for the next six months as domestic producers ramp up production. The document also noted that the move came after discussions with American partners.
"Since Putin accelerated his military build-up around Ukraine, gas prices have increased by nearly a dollar per gallon," the White House said in a fact sheet, laying blame for the rise in gas prices on Moscow. "Because of Putin's war of choice, less oil is getting to market, and the reduction in supply is raising prices at the pump for Americans."
— Tom Franck
France, Germany reject Putin's demand to pay for gas in rubles
Germany and France rejected demands by Russia that European countries pay for its gas in ruble as an unacceptable breach of contracts, adding that the maneuver amounted to "blackmail."
Speaking during a news conference, Germany Economy Minister Robert Habeck said he had not yet seen a new decree signed by President Vladimir Putin mandating gas payments in rubles, adding that Germany was prepared for all scenarios, including a stoppage of Russian gas flows to Europe.
French Finance Minister Bruno Le Maire said France and Germany rejected Russia's demand.
Russia's attempt to divide Western allies by requiring gas payments in rubles has failed, Habeck said, adding that Western allies are determined to not be "blackmailed" by Russia.
— Reuters
NATO downplays Russian claims of progress in peace talks with Ukraine
NATO Secretary-General Jens Stoltenberg downplayed Russian claims of significant progress in peace talks with Ukrainian negotiators.
"There is a close link between what is going on on the battlefield and what is going on around the negotiating table," Stoltenberg said, adding that the Russian military campaign is still ongoing.
"We see continued shelling of cities and we see that Russia is repositioning some of their troops most likely to reinforce their efforts in the Donbas region. We need to judge Russia on their actions, not on their words and it remains to be seen if there is a real willingness from the Russian side to find a political solution," he added.
Ukrainian and Russian officials are slated to resume their talks on April 1.
— Amanda Macias
Wounded Ukrainian soldiers are treated at military hospital
Editors Note: Graphic content. The following photos contain images of wounded Ukrainian soldiers being treated at the military hospital in Zaporizhzhia, Ukraine.
— Getty Images
Kremlin denies Russian officials are misleading Putin on war in Ukraine
Moscow denied U.S. claims that officials near Russian President Vladimir Putin are appeasing him by blunting battlefield assessments in Ukraine.
Kremlin spokesman Dmitry Peskov told reporters that "neither the State Department nor the Pentagon have real information about what is happening in the Kremlin."
"They just don't understand what's going on in the Kremlin, they don't understand President Putin, they don't understand the decision-making mechanisms and they don't understand the way of our work," Peskov said, adding "misunderstanding leads to erroneous and rash decisions that cause very bad consequences."
Peskov also denied claims that a rift has developed between Putin and his Defense Minister Sergei Shoigu.
— Amanda Macias
Zelenskyy addresses Dutch lawmakers
Ukrainian President Volodymyr Zelenskyy has called on the Netherlands and the rest of the EU to ensure Russia has no resources to continue its invasion of Ukraine.
"Together with other countries in the EU you must do everything so that Russia will have no resources to continue this war," he said in an address to Dutch lawmakers on Thursday.
"Close your ports to Russian ships … stop any trade with this country, which has forgotten all the lessons of the Second World War, reject Russian energy resources so that billions will not be spent on paying for this war machine and murders in Ukraine."
He also urged lawmakers listening to his address to provide Ukraine with more weapons, particularly for air defense.
"We need weapons which can secure our skies or unblock our cities where Russia has created artificial famine," Zelenskyy said. "We need weapons that will allow us to drive the occupiers out of our land. We need shells, we need missiles [and] tank weapons." 
— Chloe Taylor
At least 148 children have died in the war, Ukraine says
As at 8 a.m. on March 31, at least 148 children have been killed in the conflict in Ukraine, according to the country's ombudswoman for human rights, Lyudmyla Denisova.
A further 232 children have been injured, Denisova said in a Telegram post on Thursday.
"It is not possible to establish the actual number of dead and wounded children due to the fact that the occupying forces are actively fighting in Ukrainian cities," she said.
It has not been possible for CNBC to independently verify these figures.
— Chloe Taylor
Ukraine accuses Russia again of using phosphorus bombs
Donetsk Governor Pavlo Kyrylenko has made fresh accusations that Russia is using phosphorus bombs in eastern Ukraine.
"In Maryinka, Krasnohorivka and Novomykhailivka, Donetsk region, the enemy again used phosphorus shells," he said on the messenger app Telegram.
"After the shelling, 11 wounded civilians from the Mariinsky community, including four children, were taken to the Kurakhiv City Hospital, and in the morning the Ocheretyn community came under enemy fire. As a result, two people were injured."
CNBC has not been able to independently verify these reports.
A spokesperson for the Russian government was not immediately available for comment.
Ukrainian officials, including President Volodymyr Zelenskyy, have previously accused Russian forces of using phosphorus weapons.
The white form of the chemical substance phosphorus can "burn people to the bone, smolder inside the body, and reignite when bandages are removed," according to Human Rights Watch. But the organization says weapons containing white phosphorus are not covered by Protocol III of the Convention on Certain Conventional Weapons, the international instrument that regulates incendiary weapons.
— Chloe Taylor
Russian forces launched multiple strikes in Kharkiv overnight, officials say
Russian forces are refusing to allow humanitarian corridors in Kharkiv despite bombarding the region with attacks, Kharkiv Governor Oleh Synegubov said on Telegram Thursday.
"We are working every day to open [humanitarian] corridors," he said. "But so far Russia is not giving us such an opportunity."
He added that last night, Russian troops launched 47 artillery, mortar and tank strikes in various parts of Kharkiv, as well as around 380 shellings from the Grad and Tornado missiles. A gas pipeline was damaged, resulting in a fire, he Synegubov.
CNBC has not been able to independently verify these reports.
— Chloe Taylor
Humanitarian corridor opened in 3 cities, including besieged Mariupol
Humanitarian corridors will be opened in the Ukrainian cities of Mariupol, Melitopol and Energodar today, Ukraine's Deputy Prime Minister Iryna Vereshchuk confirmed.
She said in a Telegram post that Russia had given "confirmation of its readiness" to comply with the corridors, which would allow the evacuation of civilians and the import of vital supplies.
Early attempts to evacuate civilians from Mariupol had to be halted when Ukrainian authorities said Russian troops were not honoring the cease-fire agreements that had been put in place.
Thousands of civilians are trapped in the city's conflict zone, and are facing shortages of vital supplies including food, water and medicine.
Capturing Mariupol would be a key win for Russia, as it could allow Moscow to create a land corridor to Crimea, a peninsula in Ukraine's south that it invaded and annexed in 2014.
— Chloe Taylor
Putin has 'massively misjudged' the situation in Ukraine, UK intelligence chief says
Russian President Vladimir Putin has misjudged the situation in Ukraine, but his advisors are scared of telling him the truth about what's happening on the ground, the head of Britain's intelligence agency has said.
"It increasingly looks like Putin has massively misjudged the situation. It's clear he misjudged the resistance of the Ukrainian people," Jeremy Fleming, director of U.K. intelligence agency GCHQ, said in a speech in Australia on Thursday.
Referring to the conflict in Ukraine as Putin's "personal war," Fleming said the Russian leader had also underestimated the economic consequences of the sanctions regime as well as Russia's military capabilities.
"We've seen Russian soldiers — short of weapons and morale — refusing to carry out orders, sabotaging their own equipment and even accidentally shooting down their own aircraft," he said.
"And even though we believe Putin's advisers are afraid to tell him the truth, what's going on and the extent of these misjudgments must be crystal clear to the regime."
— Chloe Taylor
Russia-Ukraine talks to continue on Friday
David Arakhamia, a Ukrainian official who has taken part in negotiations with Russia, said in a video message that Russia and Ukraine would resume their talks on April 1.
Speaking on Ukrainian television, Arakhamia said the Russian negotiation team does not have any leeway and must discuss minor details of the talks with the Kremlin. But he said while Ukraine's team had been given red lines by President Zelenskyy that were not to be crossed — such as conceding territory — they had room for much more flexibility than their Russian counterparts.
— Chloe Taylor
Read CNBC's previous live coverage here:
You can read Wednesday's live coverage of the war in Ukraine here:
U.S. sends 'kamikaze drones' to Ukraine; Pentagon weighs permanently stationing more troops in Europe
Russia continues shelling, holds positions near Kyiv despite Moscow's promises to scale back
"Significant" Russian shelling and missile strikes have continued on the Ukrainian city of Chernihiv, and Russian troops are still holding positions close to Kyiv, despite promises to the contrary from Moscow, the United Kingdom said Thursday.
"Russian forces continue to hold positions to the east and west of Kyiv despite the withdrawal of a limited number of units," the U.K. Ministry of Defence said in an intelligence briefing.
Chernihiv is about 90 miles (145 km) north of Kyiv and 40 miles (64 km) south of the Russian border.
A Russian defense official said Wednesday that Moscow would "drastically" reduce military activity near Chernihiv and the capital of Kyiv, NBC News reported.
U.S. Secretary of State Anthony Blinken urged caution about believing Moscow's promises. The Russian Defense Ministry's press office was not immediately available to provide comment to CNBC.
The British ministry said heavy fighting "will likely take place in the suburbs" of Kyiv in the coming days. Since last week, Ukrainian forces began to report retaking towns close to the capital.
The situation around the capital is fluid, and those Ukrainian claims are difficult or impossible to verify.
"You do see the Ukrainians trying to take advantage of opportunities and roll back the Russians where they can," NBC News Global Security Reporter Dan De Luce said.
Heavy fighting continues in Mariupol in the south, but the U.K. Ministry said Ukrainian defenders are still holding the city center. Mariupol has been largely destroyed by Russian artillery and missiles.
— Ted Kemp
Copyright CNBC